Behavioral Health Technician Job Description
Put your people skills to use and train for a career you'll love.
Get Started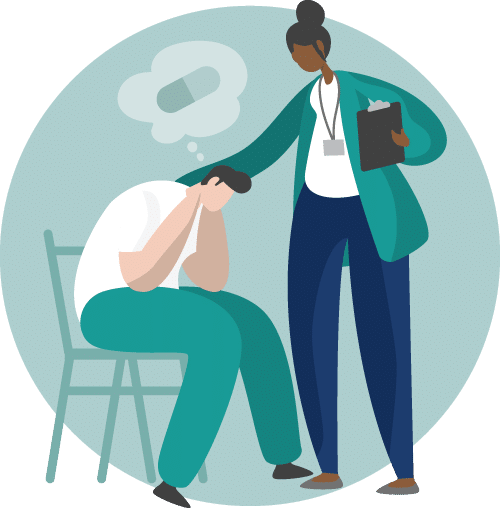 Job Duties
Behavioral and health technicians are excellent listeners who possess strong observational skills and a solid understanding of what it takes to treat individuals with behavioral disorders.
Here's a snapshot of what their day-to-day might look like:
>

Carrying out individual treatment plans

>

Observing patients and listening to concerns

>

Reporting back on patient progress

>

Ensuring the safety of patients and staff

>

Diffusing potentially dangerous situations

>

Providing emotional support to patients
Work Environment
Behavioral health technicians work in a variety of environments that range from hospitals, group homes, and state mental hospitals. There's also the potential to work from home if and when the primary responsibility is to provide clinical assistance that facilitates educational support programs.
Pay Scale
How much do behavioral health and psychiatric technicians make? The salary for this role varies based on location and experience, but the national average annual income is $36,230.*
Industry Demand
Overall, employment opportunities in the healthcare industry continue to increase, and the need for qualified behavioral health technicians reflects this trend. With nearly 15,000 new jobs projected each year for the next ten years, you can expect no shortage of opportunity after you complete your training and earn your certifications.
*Bureau of Labor Statistics, U.S. Department of Labor. "Psychiatric Technicians and Aides" Occupational Outlook Handbook. Accessed April 25, 2023.
Statements found in the United States Department of Labor Occupational Outlook Handbook are not a guarantee of any post-graduation salary, in part because the data used to create the Occupational Outlook Handbook includes workers from differing educational backgrounds, levels of experience, and geographic areas of the country.