Online Patient Care, Health, and Nutrition Training
Through CareerStep's online patient care training programs, you can prepare for a new career in less than a year! From a focus on fitness and wellness, to personal training and physical therapy, you can choose the self-paced training course that can help you take the next steps toward the job you want today. Each program is designed by industry experts with experience in the field to make sure what you learn is relevant to the work you'll do!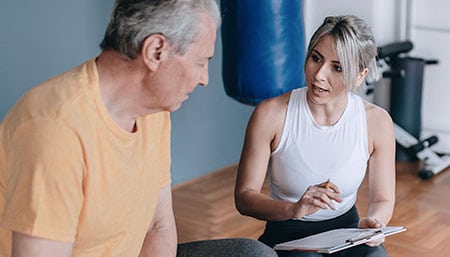 Nutrition and Personal Trainer
This course is packed with extensive content that will make you an expert on the topics of health, wellness, fitness, and nutrition.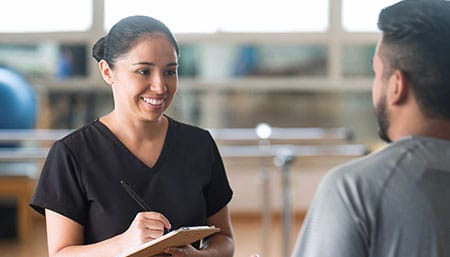 Physical Therapy Aide
Our training will help prepare you to earn the Physical Therapy Technician/Aide certification from the AMCA.
Patient Care Training FAQs
How big is the health and nutrition industry? 
Health and nutrition is a billion-dollar industry and, as more and more people focus on wellness and fitness, that is only expected to grow. This offers a lot of opportunities to find a rewarding job in the field, and there are a variety of health and wellness careers to choose from based on your interests. Popular health and nutrition jobs include
Personal trainer
Nutrition coach
Fitness instructor
Dietician
Nutritionist
Why is health and nutrition important?
Health and nutrition play a large role in the quality of life a person has, as well as the prevention of diseases or illnesses. People with healthy habits tend to live longer and lower their risk for things like heart disease and diabetes. For those with chronic conditions, focusing on a healthy lifestyle, nutrition, and exercise can help them better manage their disease and prevent further complications. However, healthy habits and nutrition don't come easily to everyone, so we rely on professionals to help us! That offers a lot of potential career paths for those who want a job that allows them to help others and focus on wellness.
How can I become a nutrition coach?
In order to become a fitness and wellness or nutrition coach, you'll usually need to complete some training and education after high school. This doesn't have to be a degree program, but can instead be shorter, career-focused training that can be done through training programs like those offered by CareerStep, most of which often take less than a year to complete. From there, you'll almost always need to become certified to be competitive in the field.
How to get personal training and nutrition certification
In order to become certified as either a personal trainer or nutrition coach, you'll need to meet the requirements set out by the specific certification you choose to pursue. Generally, this means completing any education and training requirements. Then, once you meet those, you'll need to register and sit for the exam of your choice. Some common certifications include
NASM Certified Nutrition Coach
Precision Nutrition Certification
Fitness Mentors Certified Nutrition Specialist
ACSM Personal Trainer