3 Tips to Help You Get Hired as a Hemodialysis Tech
Posted on 07.02.2020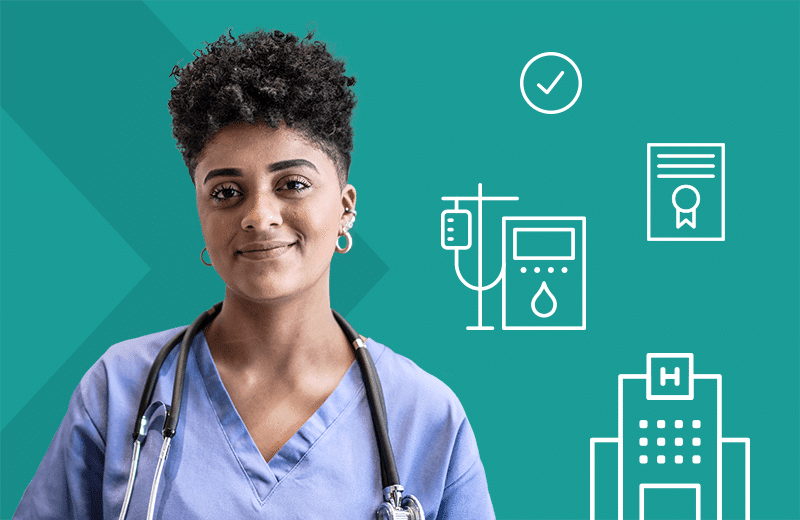 3-Minute Read
Stepping out into the job market as a new hemodialysis tech is a thrilling excursion. But, it can also be nerve-wracking. It's safe to say that very few people enjoy the feeling of sitting and waiting for a job interview.
Have no fear. If your goal is to get hired as a hemodialysis technician, CareerStep is here to help. These are our top tips for landing the job.
TL;DR
Don't have time to read the whole piece? No problem. Check out our key thoughts below:
Research the pros and cons of online certification vs traditional education. You may find that a solid clinical hemodialysis technician training program allows you to save money, avoid the deep debt of a medical degree, and provides priceless flexibility for you to get back to living your life.
Get creative and find ways to gain real-world experience before blasting your resume to all 4 corners of the country. Reputable online courses, like CareerStep's hemodialysis technician training program, give you the hands-on experience you need before starting your career. Priceless knowledge comes from consistent practice and state-of-the-art training.
Do your research, perfect your resume, and always (always) practice for interviews.
1. Opt for Certification Over a Degree
Our first tip is a big one. Before you invest time and money in pursuing a two-year or four-year degree, assess whether or not a degree is actually required for the job you want. You may be surprised to find that a degree is typically not required in a hemodialysis technician job description.
Having a degree is never a bad thing on your resume, but in this field, there are many reasons to opt for certification instead:
Cost. Certification is typically less expensive—by far—than a degree. That means you can minimize student debt and still get a solid return on your investment. At CareerStep, our programs are designed with working professionals in mind so you can keep paying your bills while you complete your training.
Time. Degrees can take years to complete. Certifications can take just months. Most CareerStep learners complete their training as a hemodialysis tech in 6 months or less.
Specialization. In a degree program, you'll be required to complete courses that have little to do with your hemodialysis technician specialty. Certification courses focus on the niche you have chosen and expand your knowledge in that area.
Competition. Lots of people have degrees, but showing that you are certified in your specialty can give you a competitive edge in the job market.
Networking. Many people who enroll in certification programs already work in the industry, which means your classmates could also be your future colleagues. Your time in the program can be used to make valuable business connections and open the door to future job opportunities.
Enrollment. Unlike the college or university admissions process, enrolling in an online certification program is simple. You can start right away without any prior education requirements or lengthy applications.
2. Get Hands-On Experience
Beefing up your application with relevant work experience is always a plus, but gaining that experience can be a challenge. Don't stress, though, because there is a way to get hands-on practice while you complete your certification.
CareerStep's Hemodialysis Technician Training Program includes online courses to help you build the skills and knowledge needed for the job and an externship for hands-on experience. During your externship, you will work under the direction of doctors and certified hemodialysis techs to perfect your skills and hone your craft in a professional work environment.
3. Prep for Interviews
With your certified clinical hemodialysis technician training complete, you're ready to jump into the job market. But just because your CareerStep program is over doesn't mean we'll leave you on your own. CareerStep Learners have the additional advantage of using our network of career resources.
For example, when it comes to resumes, you may realize how much of an art it really is. During an interview with Career Coach, Forbes documents that individuals in the heat of a job hunt should craft not one or two resumes, but even more. Crafting original resumes for each position you apply for increases your chances of not only landing an interview, but also receiving a job offer. Check out some cutting-edge resume designs here.
To really appear ready for a position in your field, be sure to give your LinkedIn profile a once-over. You may even realize that it's in need of a serious facelift. Potential employers will likely review your LinkedIn profile and examine the skills you have listed, as well as the endorsements under each skill. Remember, it's not out-of-line to request endorsements from your friends, colleagues, and network.
Additionally, you can meet with our Career Advisors for resume advice, interview tutorials, and personal career consultations. And, with our extensive list of partners, we can direct you toward some of the industry's best employers.
A Little Extra Hemodialysis Technician Career Info
What does a hemodialysis technician do? Dialysis technicians administer dialysis treatment to patients suffering from kidney disease. They must know how to set up, monitor, and clean dialysis equipment; create and maintain a sterile environment; and care for their patients before, during, and after treatment.
How much does a hemodialysis technician make? The average hemodialysis technician's salary is about $42,000 a year. This number varies based on location and experience.
Where can I be trained? CareerStep's online hemodialysis technician training program allows you to train from the comfort of your own home. You can complete training in as little as 3 months.
Now, with your resume in order, your Linkedin profile looking sharp, and maybe even a letter of recommendation or reference from your externship provider, it's time to land yourself a job.
Now, go out there and get hired!