4 Legitimate Careers You Can Have from Home
Posted on 05.16.2017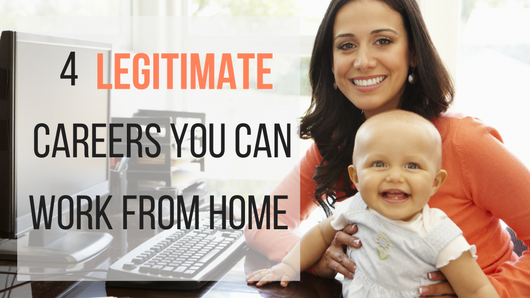 It can be difficult to choose an on-site career when you want to be at home! Maybe you have young children or babies, or maybe you have health restrictions that make sitting in an office impossible.  Or perhaps you want the freedom to travel while still making an income. Wherever you are, finding a legitimate work from home career can be the best way to meet financial obligations while maintaining the lifestyle you want.
But in our technologically advanced world, why should you have to make the choice to give up home, or give up career? Why not find a job where you can work from home? The internet is full of crazy ideas on how to make money from home, from entrepreneurship, blogging, selling for a network marketing company, or medical transcription. The advantage of a work-from-home position is flexibility.
Can't work until the littles are asleep? No problem.
Need a job that lets you take breaks for life events as needed? No problem.
Want to set your own work schedule? No problem.
If you want to make a steady income working from home, you might want to consider a career that will give you stability, and find the right training to do just that.
Finding a career with a flexible schedule may seem like a dream, but within certain career fields, it isn't that difficult. As long as the work gets done, who cares when it is done?
One of the best things about these careers is that they can also be used in an on-site job, giving you flexibility and experience. Check out our favorite careers you can have from home:
Medical Transcription and Editing
A medical transcriptionist listens to audio files sent by physicians and other healthcare workers and transcribes the recordings into written reports. Some even review and edit medical documents created by speech recognition programs.
To be successful in the medical transcription field, you will need formal training to help you identify medical terminology and anatomy, sharpen your typing skills, and improve your grammar. The U.S. Department of Labor reports that Medical Transcriptionists earn an average of $34,890 a year.
Medical Coding and Billing
A medical coding and billing career makes a great work-from-home job, reviewing patient medical records for a variety of healthcare facilities. Medical coding and billing specialists assign codes to diagnoses and procedures so the requesting facility (hospital, physician, clinic, etc.) can bill insurance.
Medical coding and billing specialists can be found working on-site for hospitals, clinics, physicians, and other healthcare facilities, but you can also find jobs from home due to the high demand for specialists in this field. According to the American Health Information Management Association, average coder salaries are nearly $41,000. Most positions require a year or two of experience, but often with the right connections and training, you can get a job without experience.
Executive Assistant
An executive assistant is an excellent work-from-home position, as many small companies are looking to outsource the management of day-to-day office operations. Executive assistants organize records, plan meetings, and draft correspondence, presentations, and reports. Executive assistants can be found in schools, government agencies, and in corporate settings but aren't limited by geography.
Working as a virtual assistant in the capacity of an executive assistant can be done anywhere in the world, which is why it is one of our favorite work-from-home careers.  The U.S. Bureau of Labor Statistics reports that administrative assistants earn annual salaries of more than $36,000, and executive assistants earn an average of $55,000. Executive assistants can find work based on past work experience, or can take a professional training course to prove aptitude. You may need to do some networking to get clients from home.
Computer/IT Technician
As a computer technician, you could be providing computer support remotely for virtually any company installing or maintaining software, troubleshooting computer issues, configuring computer networks, or offering technical support over the phone or email. Professional training is important to success as a computer technician, and gaining credentials provides credibility. Contacting small companies and networking may be the best way to find clients so you can work from home.
Technology is becoming more and more important to growing companies, so computer technicians are in high demand. The U.S. Bureau of Labor Statistics reports that computer technicians earn annual salaries of more than $50,000.
Legitimate work from home careers aren't too difficult to find if you use CareerStep to train you! Find out more here.