All About Work from Home Medical Transcription and Editing
Posted on 05.18.2017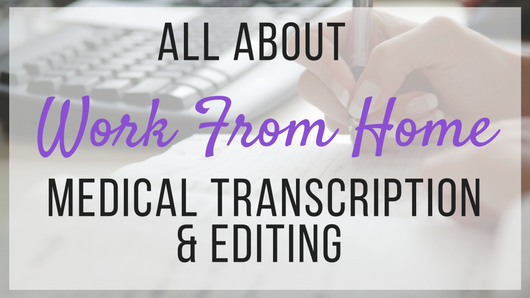 Embarking on a work-from-home career can be a financial life saver for a stay-at-home parent, an individual with disabilities, or someone who cannot relocate for a job. Working from home also provides financial stability and allows for time freedom. Medical transcription editing is a career that you can train in, and work at, from home. In fact, most medical transcriptionists work from home, which means that healthcare professionals are used to working with contractors.
The best part? You don't need any experience to start training!
What is medical transcription?
The transcription of medical documents has been in existence for well over 100 years. In the beginning, a doctor would dictate notes either aurally or in cursive to the transcriptionist, who would use a typewriter to transcribe the medical record. The advancement of technology now allows for medical transcription work to be done using audio recordings, making it possible for medical transcription and editing to be done remotely. Because of the 2014 federal mandate for Electronic Medical Records, medical transcription work has become even more vital to the healthcare industry.
How do I train for Medical Transcription Editing?
Medical transcription and editing is a competitive field these days, and requires superior training and connections to break into. Recent technological achievements make it easier for physicians and other healthcare professionals to dictate medical records, and some are taking advantage of speech recognition software to transcribe. While it is true that some experienced transcriptionists are experiencing a decline in work because of this, transcriptionists with editing training and experience are still needed to edit the software transcriptions, and it should be noted that not all healthcare professionals are using speech recognition software due to potentials for inaccuracy.
If you are looking to pursue a career in medical transcription and editing, you should consider programs that include modules on editing to help you gain an edge in this competitive field. If you choose to take the Medical Transcription and Editing program from us at CareerStep, make sure you take advantage of our Career Support Services. 94% of graduates from our Medical Transcription and Editing program get jobs, and some of them through our connections with large companies seeking transcription.
*Train now to be a Medical Transcriptionist with CareerStep. *
How do I start working as a Medical Transcriptionist?
The opportunity to work independently as a contractor is one of the great draws to the profession, whether you choose to contract through a large company, or build your own list of clients. You can find clients through medical transcription editing networking sites like MTDaily or dedicated job portals like or freelance websites like elance.com, ifreelance.com, and odesk.com. Another way to find work as a medical transcriptionist is to distribute your resume with a cover letter outlining your services to healthcare centers in your city. Local clinics may be more than happy to outsource their medical transcription to a local professional.
How much will I make working as a Medical Transcriptionist?
Most medical transcriptionists are paid on production, so the more you work the more you can make. The U.S. Department of Labor reports that the middle 50% of medical transcriptionists earn between $27,810 and $42,690 a year.