Dental Assistant for Entry Level Program Updates
Posted on 08.18.2021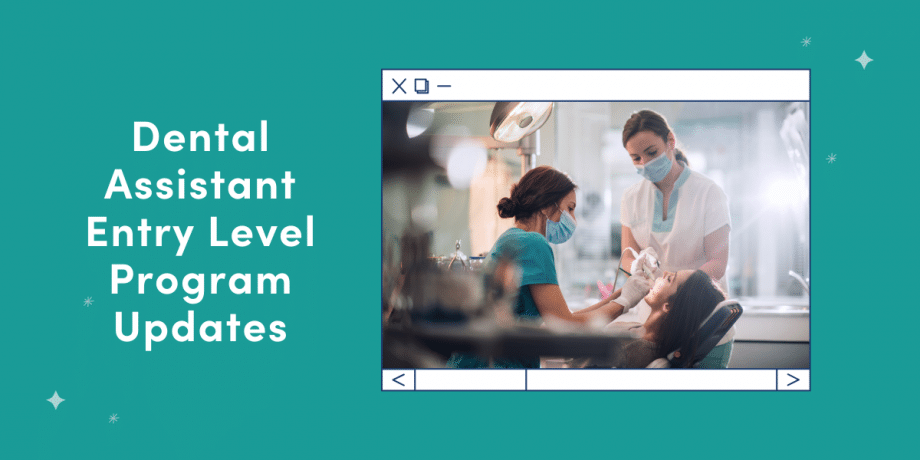 We've launched an improved Dental Assistant program. It's been rebuilt from the ground up, explicitly overhauled to align with current industry standards and give you the training you need to establish a career in the dental field.  
Why we decided to update our Dental Assistant program
We're all about career readiness: learning the concrete skills you need to be successful in the workplace. It's kind of what we do best. And after analyzing current trends within the industry, we saw an opportunity to streamline our online coursework in a way that prepares our learners for greater success in the field of dental assisting.
So we made some changes.
What's changed
Practical Simulations: Studies show that interactive learning engages the brain in exciting ways. That's why we've placed greater emphasis on practical simulations (as opposed to passive reading and listening exercises) to provide a more realistic, hands-on experience. 
Externship Preparation: Externships are where the magic happens. It's where learners get an eye-opening introduction to the fast-paced, day-to-day pressures of the job and build relationships that could turn into potential job offers. Seriously, you can't dismiss the value here. Our updated course content includes thorough externship preparation that covers all the benefits, eligibility requirements, and placement considerations you need to be aware of—all so you can make the most of this opportunity. 
Dental Kit Upgrades: In the interest of providing a more engaging learning experience, we've built a new lab kit that provides more practical hands-on activities. All the lab activities correspond with the program outline and are designed to give learners a better idea of how they're performing.
What this means for you
With highly focused content that's in alignment with the industry and leads to in-demand certification opportunities, you'll find this program to be a cut above other training options as you work towards a career as a dental assistant:
Registered Dental Assistant (RDA)
This certification is offered by American Medical Technologists (AMT) and demonstrates entry-level competence in basic dental assisting duties. 
National Entry Level Dental Assistant (Nelda) Certification
Provided by DANB, this certification exam has three parts: anatomy, morphology, and physiology (AMP); infection control (ICE); and radiation health and safety (RHS).
Plus, you'll learn the in-demand skills employers have told us they're looking for when they hire new professionals:
Infection Control

Basic Dental Sciences

Oral Health & Nutrition

Office Management

HIPAA Compliance

Dental Radiology

Tooth Morphology & Charting

Communication

Dependability

Critical Thinking

Time Management
Sign up today and find out how a career in dental assisting can lead to long-term success!