How to Become a Veterinary Assistant
Posted on 11.18.2019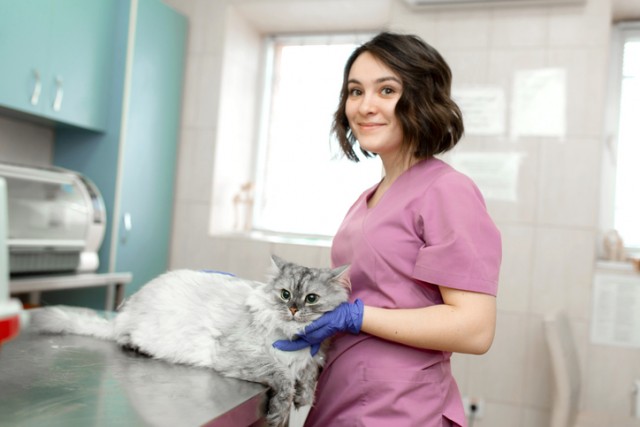 Animals are incredible. They bring so much joy and comfort to our lives. There's a reason that emotional support and service animals are becoming more and more commonplace: Pets provide a valuable mental health service that is replete with benefits. Of course, we can't all just strap a harness on our dog or cat and take them everywhere, but there are career options in which we can give back to furry friends, to participate in their healing while also reaping the benefits of decreased stress and anxiety. Veterinary assistants are one such option. They work with animals all day long, don't have to be overwhelmed by excessive schooling fees, and veterinary assistants report a job satisfaction rating of 72%. If that sounds like the perfect job for you, read on.
What Is a Veterinary Assistant?
If you've been to the vet, you've definitely encountered veterinary assistants, even if you didn't know what they were called. At a veterinarian's office, they are the people in charge of feeding, bathing, and exercising the animals that a veterinarian is working with. Occasionally, veterinary assistants help the vet and vet technicians with lab work, restraint of pets during examinations, and provide first aid to pets in an emergency.
A veterinary assistant is not the same as a veterinarian or a veterinary technician. A veterinarian most likely has a DVM: a doctor of veterinary medicine. They are able to perform surgeries, prescribe medication, and oversee the health of the animals they are in charge of. A vet technician is almost like a nurse for the veterinarian. They are in charge of preparing animals and instruments for surgery, performing lab tests, administering anesthesia to animals during procedures, and assisting in biomedical research.
Veterinarians, vet techs, and vet assistants each play different and important roles in the care of animals.
How Do You Become a Veterinary Assistant?
The first step to becoming a veterinary assistant is either having your high school diploma or GED equivalency. For some practices, having a high school education is good enough to start a career as a veterinary assistant. Certifications aren't required, but most offices prefer applicants that have gone through a training program.
If you go through a program like CareerStep's online veterinary assistant certification, you will be trained to know more about key topics like animal anatomy, animal restraint techniques, and surgery and emergency care.
How Much Does a Vet Assistant Make?
A vet assistant makes roughly $28,000 annually, or around $13 an hour. The estimated growth for vet assistants in the next decade is 19%, which is much faster than most jobs. This major growth means that there will be a high demand for veterinary assistants, which will help you to always find a job that you want.
What Can I Expect As a Vet Assistant?
As a vet assistant, you can expect a rewarding career helping sick and injured animals. Since you are working with a wide variety of sick animals, every day of work will have a different schedule. Depending on the individual care needs of the animals, your day might consist of reapplying dressings on wounds, administering medications, and making sure that their kennels are clean from any bodily fluids, or it can be as simple as making sure that each animal has food and water throughout the day, and gets the exercise they need.
Not only will you be working directly with the animals that need your care, but there will be days where you will be asked to deal with the animal's owner as you confirm appointments, make follow-up calls, and do basic clerical work.
If you love animals, becoming a vet assistant could be the start of a very rewarding job for you. Contact CareerStep now to start your career as a veterinary assistant.