Top 3 Reasons People Avoid Online Career Training
Posted on 10.08.2020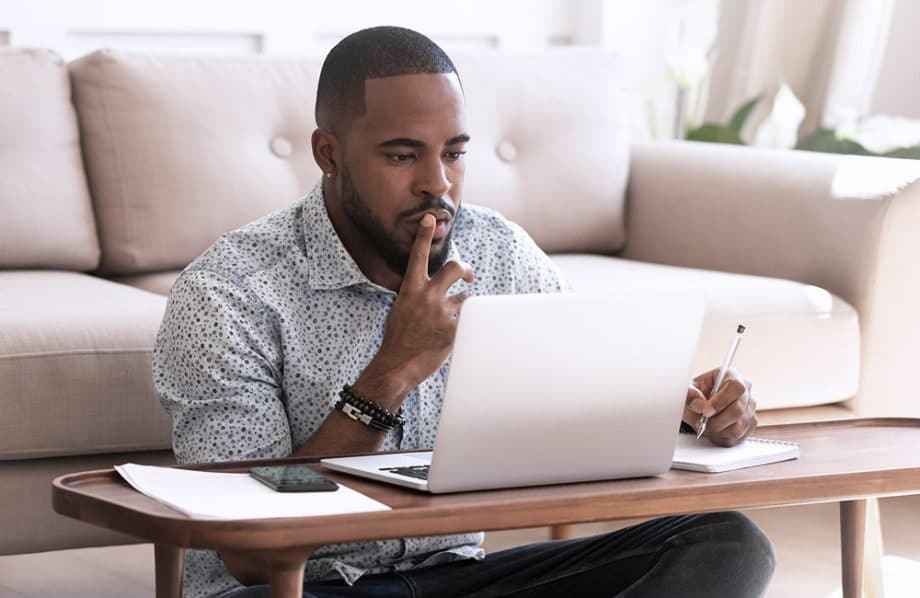 3-minute Read
With the current job market rapidly evolving and so many individuals finding themselves in need of a career pivot, online education is taking center stage. At CareerStep, we believe alternative learning opportunities like online career training offer a better way to soak up new knowledge, and yet a lot of people are apprehensive.
Before we jump into the top three reasons people avoid online career training — and why you shouldn't be worried about them — here are some important facts to consider:
On the other hand, alternative education — like CareerStep's online training — focuses on jobs that are in high demand from coast to coast, like computer tech certification programs and medical assisting, and offers a totally affordable and super flexible way to get you out into the job market.
So why don't people take advantage of online career training?
TL;DR
Don't have time to read the whole piece? No problem. Check out our key thoughts below:
In many ways, your education should be engaging and challenging. Many fear that online career training won't provide the learning-curve thrill that they would experience in a conventional education setting.
When it comes to your future career, quality is important. Potential learners have no way of knowing the type of education they'll receive because they haven't had enough experience with eLearning.
Not unlike the fear of being homeschooled, receiving an online education could potentially mean limiting an individual's social interaction. Participating in the right programs inside and outside of career training commonly combats this fear.
1. Fear That Content Won't Be Engaging
No one likes to be bored. A common fear with online learning — and any educational course for that matter — is that the content won't be engaging. Heavy text and repetitive modules may have been standards of early online learning options, but not anymore.
Most providers know that learners are more successful when they are engaged and enjoying what they are learning. That's why, in many courses, you'll find videos, infographics, and opportunities for hands-on learning. Each course is broken into short, digestible modules that allow you to tackle topics with focus and take breaks whenever you need them.
2. Fear of Low-Quality Education
How do you know that your online program is legitimate? And how can you guarantee that future potential employers will recognize and accept your credentials?
Before selecting your online career training source, do your homework. Find programs that are established, recognized, and thorough – and make sure that the course prepares you for nationally recognized certification.
And remember, quality training is about learning relevant skills — skills employers want. Skills you can carry with you when you actually start working. Skills that make you a better job candidate, improve your credibility, and drive results.
CareerStep has been training individuals for new, rewarding careers for 25 years. More than 140,000 Learners have completed our courses and started exciting jobs in healthcare, administration, and technology. And, our programs are approved by industry experts:
American Academy of Professional Coders (AAPC)
Association of Healthcare Documentation Integrity (AHDI)
Computer Technology Industry Association (CompTIA)
National Healthcareer Association (NHA)
American Society of Health-System Pharmacists (ASHP)
Accreditation Council for Pharmacy Education (ACPE)
Pharmacy Technician Certification Board (PTCB)
Board of Nephrology Examiners Nursing Technology (BONENT)
American Medical Technologists-Dental Assistant (AMT)
American Medical Certification Association (AMCA)
3. Fear of Isolation
Sitting in a traditional classroom gives you access to an instructor and other students when you need help. A common fear of online learning is being left alone if you have questions or concerns.
CareerStep offers end-to-end support to make your learning experience as easy as possible and help ease the transition from training to your new job.
Our team can help you select the course that is best for you. Once you begin, our entire staff of industry experts and tech-support teams are on-call to help you stay on track. You'll also have access to an online community of like-minded Learners with similar hopes, dreams, and aspirations. This community will be your go-to resource for additional program information, helpful advice, and networking opportunities.
Plus, when you finish your program, our Career Advisors offer resume advice and interview tutorials.
From signup to completion, you'll never be alone.
So, what are you waiting for? Have no fear. Browse our programs today.