2017 CPT Changes to Dialysis Coding
Posted on 01.10.2017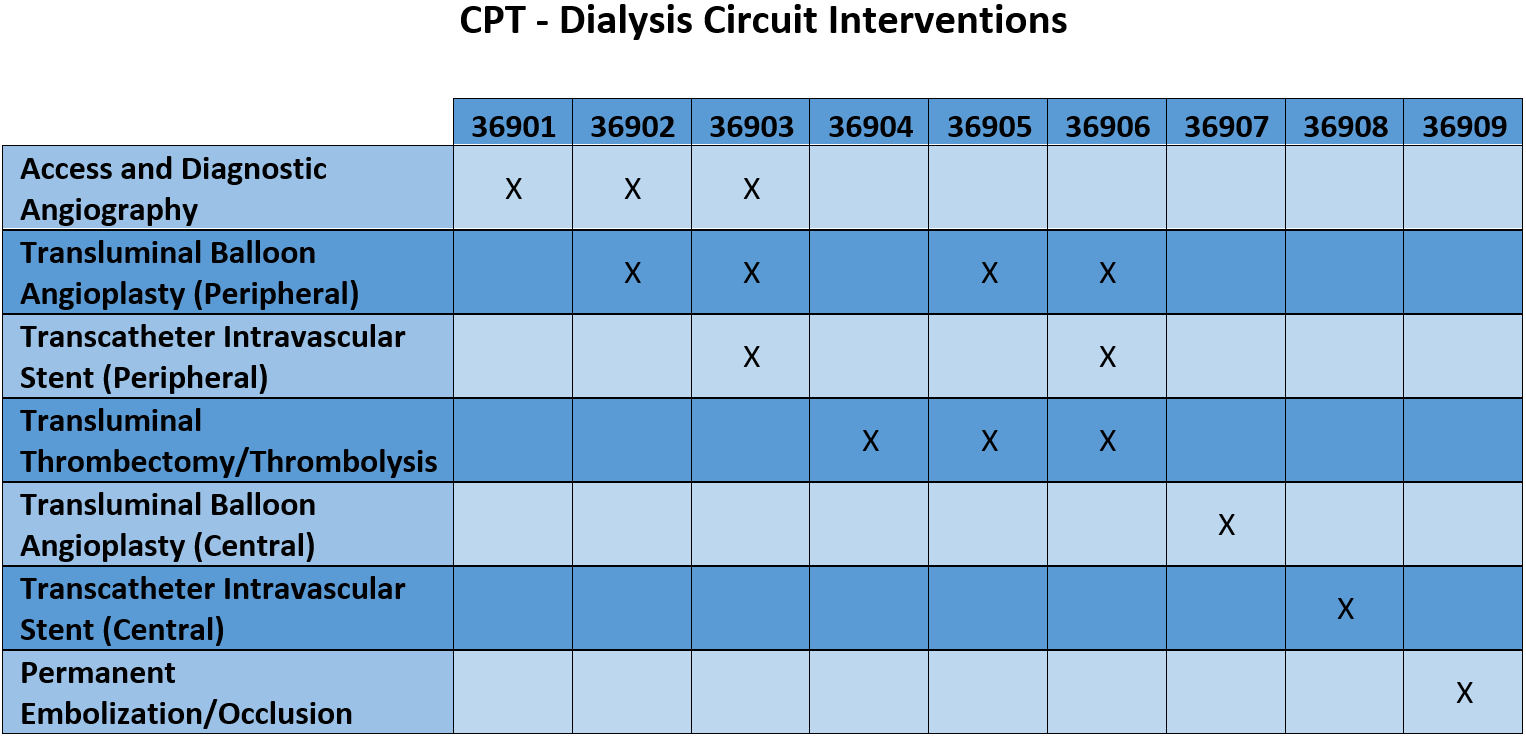 In the 2017 codeset, CPT has revamped the section of codes for reporting dialysis circuit procedures. Changes include the deletion of codes 36147-36148, 35471-35476 and the addition of codes 36901-36909. Terminology was also updated, specifically references to AV shunt were changed to AV dialysis circuit.
New CPT codes 36901-36909 are hierarchical combination codes. Within this code range, codes for more intensive services are inclusive of less intensive services. For example: Code 36901 reports access and diagnostic angiography of the dialysis circuit. Code 36902 reports transluminal balloon angioplasty of the peripheral dialysis segment of the dialysis circuit. Access to the circuit and any diagnostic angiography performed are not separately reported. Code 36903 reports transcatheter placement of an intravascular stent and includes all procedures reported by codes 36901 and 36902, when performed.
Codes 36904-36906 report thrombectomy and/or thrombolysis of the dialysis segment (36904), angioplasty when performed in conjunction with thrombectomy/thrombolysis (36905) and stent insertion, including angioplasty, when performed in conjunction with thrombectomy/thrombolysis (36906).
Code 36907-36908 are add-on codes that are assigned for either angioplasty (36907) or stent placement (36908) when performed in the central dialysis segment in addition to one of the primary procedures listed above.
Code 36909 reports permanent vascular embolization or occlusion of the dialysis circuit, including accessory veins.
All codes report procedures performed through percutaneous access of the dialysis circuit and include fluoroscopic guidance, imaging, radiological supervision and interpretation and for diagnostic studies, image documentation and report.
Ultrasonic guidance for puncture of the dialysis circuit is not included in these codes as it is typically not necessary. However, in cases where this type of guidance is required it may be reported with code 76937 when appropriately performed and documented.
Use the table below to review in a glance what is included in each code.