5 Reasons to Become a Medical Assistant
Posted on 10.16.2017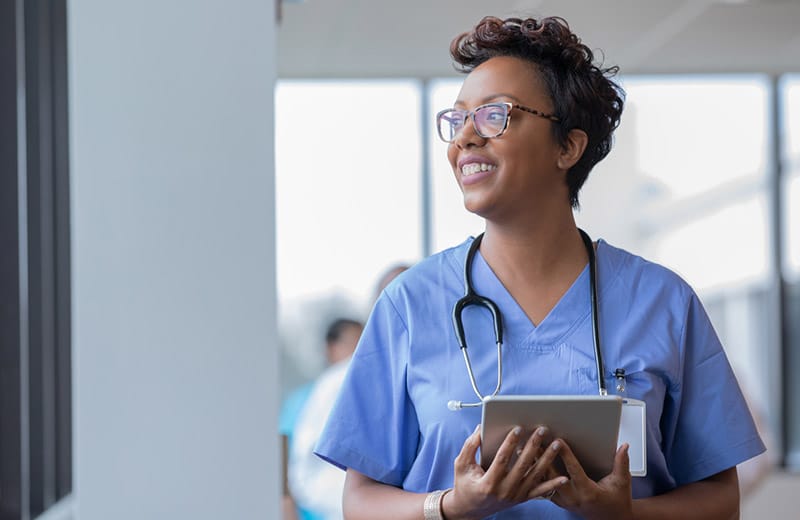 Medical assistants are patient people…
Forgive the pun, but in this particular case, we mean that quite literally. In fact, certified MAs keep the entire healthcare system from flying off the rails. Their job requires knowledge, skill, empathy, and a tremendous amount of patience (and patients).
Let's get more specific.
Medical assistants help a hospital, clinic, or physician's office run smoothly by performing an endless list of various responsibilities. Like measuring vital signs, labeling and processing specimens, managing medical records, and so much more.
No two consecutive days or weeks or months are ever the same, leaving little room for boredom or complacency, which means medical assistants have to expect the unexpected—and keep their cool in unpredictable situations.
They don't ever examine, diagnose, or treat patients—that work is left to the doctors and physicians—but that doesn't make their contributions any less meaningful. With so much on their plate and so much patient interaction, they're like the heart and soul of any medical office.
Which poses the question: How do you feel about your current job or career trajectory? Do you feel valued? Are you happy? Satisfied with your growth potential?
If you've ever thought about switching careers, here are 5 reasons it would be a good idea for you to become a certified medical assistant:
1. You'll help people.
We all want to do something that has a real impact. Something that makes us proud when we look back on our years as younger professionals. Something that motivates us to drag ourselves out of bed every morning to go to work.
Given the current health crisis (COVID-19), the healthcare industry is one specific area where professionals aren't lacking a sense of purpose. They know their mission. They understand their role in getting the country back on track. And they know what they do every day matters.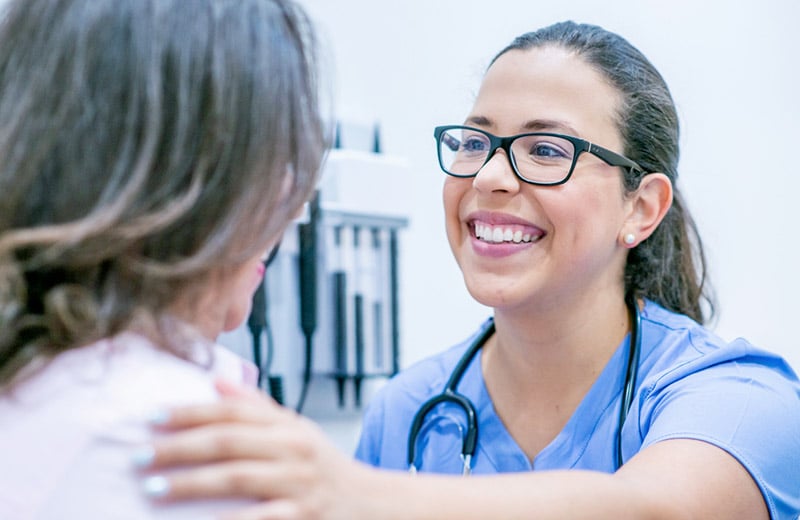 As a medical assistant, you'll have the opportunity to interact with patients on a variety of levels. You might greet them at the front desk, collect vitals, and walk them through next steps in their personal health plan. As such, you have the opportunity to set the tone of the patient's visit and shape their experience.
Seriously. Never underestimate the value of an excellent bedside manner.
2. You can learn the ropes and start working—fast.
With online certificate training, you could be prepared to start working as a medical assistant in as little as 4 months. That's a stark contrast when comparing medical assistant online programs to traditional brick-and-mortar education, which could take anywhere from 2–4 years before you start hunting for a job.
The damage to your bank account is also significantly less. Like, thousands (and thousands) of dollars less.
The caveat here is that online training varies in quality—no two medical assistant programs are exactly alike. If you're considering a specific course or provider, make sure to put in the legwork and do your research.
A few questions you should ask yourself:
Do their Learners transform their training into concrete job opportunities?
Do their instructors have experience in the field?
Do their courses prep Learners for certification?
Hint: The only correct answer to all the questions above is "Yes".
3. You'll enjoy financial stability.
A medical assistant is ranked #6 on the list of best healthcare support jobs by U.S. News and World Report (2020)—which is pretty impressive when you consider how vast and varied your opportunities are within the industry.
The pay isn't bad either.
According to The Bureau of Labor Statistics, the median certified medical assistant salary is $34,000 a year.
How great is that? That leaves a lot of room for growth, too, especially as you gain more experience.
4. Your job prospects are outstanding.
All the training in the world doesn't mean much if you can't find a job. And millions of Americans are struggling to find their place in an economy devastated by the recent pandemic. Layoffs, furloughs, bankruptcy—it's all very real right now.
But we have some good news for you.
Average job growth in the U.S. by 2028 is 5%. Average job growth in the healthcare industry in the same timeframe is 17%–adding more jobs than any other group of occupations. And the average job growth for medical assistants during that time is a whopping 23%–much faster than average.
The Bureau of Labor Statistics estimates that over 154,000 new medical assistant jobs will become available by 2028.
All those numbers and percentages mean that certified medical assistants have a tremendous amount of opportunity.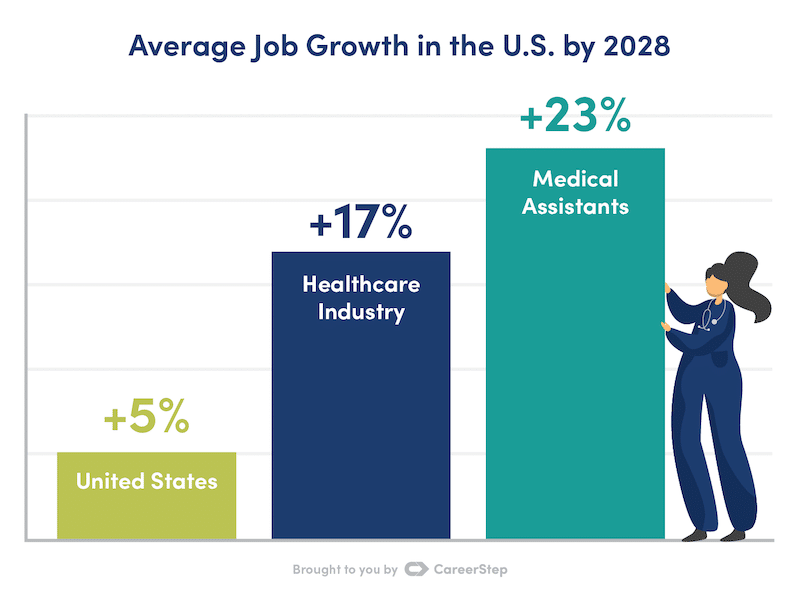 5. You can break into the healthcare industry.
If you're interested in working in healthcare, becoming a medical assistant is a great job to break into the industry. It's like a proverbial launchpad with endless opportunity.
You'll sharpen your communication skills, learning exactly what to say, how to say it, and tailor your approach to each individual. You'll be part of a close-knit team, working to benefit the lives of your patients. And you'll gain valuable experience as you pursue higher education as a nurse, physician assistant, or a physician. It's also a great way to get your feet wet and figure out what specific aspects of healthcare you're interested in.
There are so many great reasons to become a medical assistant—and we've barely scratched the surface here. If you want to learn more, visit our medical assistant certification program page or talk to someone currently working as a medical assistant. The internet is also packed to the virtual brim with more info, so don't hesitate to consult the Google machine.