CMAA National Certification Exam FAQs
Posted on 07.01.2013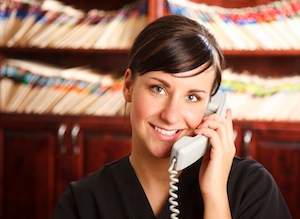 1. What is the CMAA?
The Certified Medical Administrative Assistant (CMAA) is a nationally recognized certification for Medical Administrative Assistants. It demonstrates your ability to perform routine administrative tasks in a physicians' office or clinic to keep it running efficiently. Medical Administrative Assistants are also known as Medical Office Secretaries and Medical Office Assistants.

2. Do I have to become certified?
Certification is not required to enter medical administrative assistant industry. That being said, certification looks great on a resume and may help employers have more confidence in your skills. It proves that you have the training they are looking for and you will only require minimal additional training.
3. Why should I take the CMAA?
Becoming nationally certified may increase the number of job opportunities, make you eligible for a higher pay scale, and validate your training and expertise.
4. How much does it cost?
The CMAA is only offered through the National Health Career Association (NHA). They administer their tests at testing centers throughout the U.S. The current price to take it is $105. You can register for it at www.nhanow.com.
5. Where can I take the CMAA Exam?
The NHA uses PSI Testing Centers to administer the CMAA exam. You can find the nearest testing center location at https://candidate.psiexams.com/.
6. What does it cover?
The CMAA covers Working as a Medical Administrative Assistant, Healthcare Structure and Organization, Medical Law and Ethics, Healthcare Documentation, Exploring Healthcare Reimbursement, Medical Office Procedures, Medical Office Management, and Practice Finances.
7. Do I need additional study material?
The CareerStep Medical Administrative Assistant course prepares students very well for this exam.  Most students are able to pass it on their first attempt without additional study material. If you are worried about the test and would like to purchase additional material, ATI Allied Health offers an online study guide and practice test. You can find more information at https://www.atialliedhealth.com/ati_store/category.aspx?zcid=163.
8. What is the format of the CMAA Exam?
The final exam consists of 110 multiple choice questions. Testing candidates are allowed one hour and fifty minutes to take the exam. The basic breakdown of the exam is 20 items covering risk management, 30 items covering financial procedures, and 50 items covering office procedures.
9. How is the CMAA Exam scored?
The questions in the exam are weighted, meaning some questions are worth more points than others. You must score 390 or better to pass the exam.
Even though certification may not be required, it's a great way to prove your skills to employers as you're looking for medical administrative assistant jobs. Prepare for your CMAA exam with CareerStep's Medical Administrative Assistant with EHR training program. Call us now for more details!