Steps to Becoming a Successful Computer Technician
Posted on 05.04.2015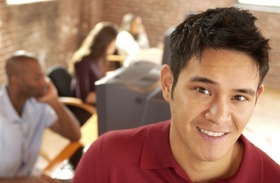 More than 50% of today's jobs require the use of a computer, a percentage that is steadily rising. Since nearly every company has need for a computer lover to keep their machines in tip-top shape, there has never been a greater need for computer repair technicians. Is this the field for you? Follow the example of successful computer technicians and be a standout candidate by following these tips.
Enroll in a quality computer technician training program
Most quality computer tech training programs will give you the skills you need to be successful, and online programs have the added bonus of a flexible schedule. You can be trained, certified, and well on your way to a successful career in a matter of months. Be sure to do your research to find the best program for you. For example, a quality training program should be taught by industry professionals, have high job placement rates, include everything you need for certification, and be cost-effective.
It's also important to ensure your program is built to effectively prepare you for a computer technician career. For example, CareerStep's Computer Technician training program is specifically designed to prepare you for the big test, the CompTIA A+ certification. Even the midterm and final exams are designed as practice tests for the A+ exams. With specific preparation like this, you can be confident that you're gaining the knowledge and skills needed to earn your computer technician certification.
Get hands-on experience early
Complete an internship during your training to really set yourself up for success after graduation. Internships provide hands-on experience and networking opportunities that give you a head start on your career. Also, keep an eye out for job openings while you're pursuing your computer technician certification. Job search websites like Monster, Indeed, Craigslist, and CareerBuilder list internships as well and are great places to start.
Say yes
As often as possible, say yes to all work opportunities, projects, and job assignments that come your way—even those that may not be your ideal. There's no better way to get varied experience and expand your network and resume! Saying yes also impresses your supervisor by showing you are positive and teachable, characteristics often more important than a specific skill. By saying yes, when your dream job finally comes along, you will be prepared and qualified.
Keep up to date and expand your skills
Technology evolves almost constantly, so it is essential to stay up on the latest developments and keep your skills current in order to be successful as a computer repair technician. Formal training and professional development courses are available on campuses or online, but feel free to get creative. Build a computer or take apart your own and put it back together. You'll be amazed at how much you learn. Subscribe to tech magazines, read computer blogs, watch video tutorials, and constantly be on the lookout for new learning opportunities.
Getting a good job is much more than completing a training program. It takes effort, passion, and proven strategies to make your computer technician career a success. Apply yourself—and these strategies—and make the most of your career.