The CPC Exam is About Strategy…
Posted on 06.03.2015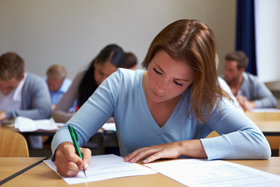 Ready for the CPC exam? … No? That's ok, nobody ever really feels completely ready. A big part of pre-exam anxiety is the "unknown," but if you knew exactly what's on the exam, it wouldn't really be a test now would it?
At the outset, it is important to understand that the actual process of taking a certification exam is, as they say, its own animal. It is NOT like the processes you will go through on the job as a medical coder. Yes, it is true that you will be searching for correct codes to assign based on the information you are given, but, the circumstances are vastly different. These circumstances make it very important to approach the exam with a defined strategy. Here are some tips:
Build your OWN strategy
There are thousands of test taking strategies out there—some are actually good. Building your own strategy is important because what works for you will likely not work for everyone else—we all process information differently. Focus on building strategies that are comfortable and effective for you and that you can turn into habits through repetitive practice. That's right, habits. This part is important because good habits and effective practice pay off the most during stressful situations—like a timed exam.
Open book!
You will have your books with you! Focus your study on learning guidelines, and familiarize yourself with the layout of the books, especially CPT. Don't try to memorize. There is way too much info to spend time on memorization. Instead, focus your time on using your books. Learn where the guidelines are for the different sections and subsections in the CPT book and know where the modifiers can be found.
Multiple choice
The answer is right in front of you! This should be an important part of your strategy. This means that you can save time by skipping the indexing process. Rather than indexing codes, it is more efficient during the CPC to use the codes given to you in the multiple choice options and go straight to the numerical section. This strategy saves time and allows you to focus on the keywords and detail in both the code descriptions and the scenarios you are given. It also allows you to eliminate incorrect choices very quickly.
CPC = CPT
Ok so, there are some ICD-9 diagnosis codes and some HCPCS codes on the CPC, but CPT is king. The exam presents groups of coding scenarios based on each section of the CPT book one at a time. You can save time by keeping your book open to these sections—no need to take time flipping pages to the other sections. This idea can also help direct your study. Review the section specific guidelines as part of your prep. Don't memorize! Just do a quick review so you are familiar with the basics in each section.
Highlight and underline
Many test takers find it helpful to highlight or underline keywords and details within the scenarios as they read through them. I like to define keywords as anything that could potentially alter the code assignment. The AAPC practice tests are great for helping you practice identifying many of these keywords.
You can also make notes and highlights in your CPT book. The popular "Blitz" CPC test prep course leans heavily on this idea. Making recognizable marks in your book can save you time identifying the differences between CPT code descriptions. This contributes to a very efficient process of elimination. Highlighting can also help you focus on the important details in both the scenarios and the CPT code descriptions—matching up these details is half the battle on the CPC.
Timed practice!
Since one of the biggest challenges of the CPC is the 5 hour and 40 minute time limit, it is imperative that you get some timed practice. Practice exams can help you establish a rhythm. Discipline is important when you are timing yourself. You need to move from one question to the next, like you will on exam day, and avoid looking at the correct answers and rationale until you have completed an entire section. This will give you an idea of how quickly you move through questions and give you the opportunity to make adjustments if necessary. Making sure you have 3-4 timed practice sessions before test day is a good start. They should be 10-15 questions long and timed accurately. Running out of time on the CPC is very common. Don't shortchange yourself on timed practice.
These are just a few CPC specific strategies. Googling "test taking strategies" will give you some really good general tips like: get a good night sleep, eat a light, healthy breakfast, arrive early, do a quick review of your exam after you finish. These, among the many others, are great to consider.
But the most important things is to use a good combination of tips to build your own strategy. Building a comfortable strategy makes practice more effective and creates good habits. Perhaps most important, sticking to your strategies gives you confidence in when you finally unseal your exam with your no. 2 pencil in hand.