Pharmacy Technician: The Perfect Career for Moms
Posted on 06.15.2015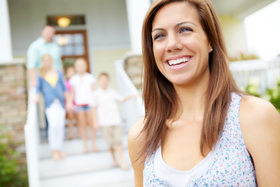 Looking for your perfect career choice as a working mom? A pharmacy technician job description may not shout "mom career!" but as a top healthcare job with attractive benefits, affordable training, and flexible schedules, it's the perfect fit for many moms.
Not all moms want to work at home
Let's face it—working from home is much harder than it sounds: distraction, disorganization, and lack-luster motivation plague work-from-home moms. That's why many moms prefer a flexible job outside the house, with social variety and change of scene as an added bonus. Jobs like that of a pharmacy tech are great options for moms looking to separate home life and work life but who need job stability and flexibility.
A top healthcare job
A pharmacy technician career is one of the top healthcare jobs of 2015, according to the U.S. News and World Report, and the field is only growing. The Department of Labor expects 70,700 new job openings, a 20% increase in employment, before 2022. With average salaries of $30,000 a year and attractive employee benefits such as medical insurance and paid time off, it's an excellent, in-demand career choice to support your family.
Work flexibility
Moms who are pharmacy technicians enjoy work flexibility; they are not limited by a strict 9-5-work day or to pharmacies in clinics and hospitals. In fact, many pharmacy techs work part-time and at all kinds of hours. The 24/7 nature of healthcare allows for a variety of schedule options, ensuring you find a good fit for you and your family. Additionally, pharmacy technicians are needed at drug stores, grocery stores, and even at mail-order, online pharmacies. With some type of pharmacy on nearly every block, you are sure to find a position where you can be within minutes of your kids.
Many training options
With a pharmacy tech career, you can get trained, gain experience, and start earning money for your family in a matter of months. You even have countless options when it comes to training; from online pharmacy technician training programs to associate degrees, you are bound to find a training program that fits your budget and schedule.
Online training programs particularly cater to moms, allowing students the flexibility of completing their coursework from home at a pace and schedule convenient for them. Whatever program you choose, be sure it provides you with book learning and experience, such as an externship or work-study program.
Maisha Martin, a CareerStep online pharmacy technician training graduate and single mother of two, found her externship essential. As she says, "CareerStep offered me knowledge AND experience. No one will hire you if you're all book smarts but have never set foot in a pharmacy. I'm a hands-on learner anyway, so a program that offered me the opportunity to walk away with both a certificate and a bit of experience in hand made me feel confident that I would ace my national exam and land any job I applied to."
The benefits of being a mom with a pharmacy technician career don't stop here! Along with its perks and flexibility, this career offers lots of opportunities for growth and is a great stepping-stone in the healthcare industry. It's hard to be a working mom; a job as a pharmacy tech could be exactly what you and your family need. If you're already a pharmacy technician or are studying with CareerStep, how has this career fit into your life already? Let us know in the comments below!