MyCAA 101: Ways to Use Your Scholarship Funds
Posted on 06.16.2015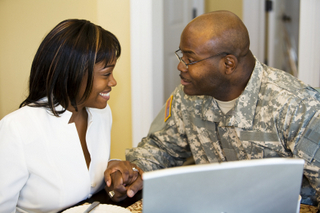 In our earlier posts in this series, we've shared what MyCAA is, why it exists, and who is eligible to receive those funds. As a military spouse, if you know you have access to $4,000 toward your education through MyCAA, the next crucial step is knowing where those funds can be spent. The MyCAA program outlines specific requirements for MyCAA spending—what the funds can and can't be used for. Below is a brief summary. For more details and the full list of non-approved items, see the official MyCAA Fact Sheet from Military OneSource.
As an eligible military spouse, you can use MyCAA funding to pay costs of:
– Tuition for education and training courses and examinations leading to an associate degree
– Obtaining a license, certificate, or certification at an accredited college, university, or technical school in the United States
– An approved testing organization that expands employment or portable career opportunities
MyCAA will NOT pay for:
– Tuition for courses and examinations not included in your Education and Training Plan (set up with a MyCAA career counselor)
– Courses previously taken or completed
– Reimbursements of any kind
– Student activities, events, and entertainment
– Fees of any kind, including registration fees, technology fees, parking fees, etc.
– Transportation, lodging, child care, and medical services
– High school completion programs
– Academic credit by examination tests (CLEP)
– Courses taken more than one time, unless MyCAA receives a full refund from the school
– Non-academic credit or ungraded courses
– General studies, liberal arts, and interdisciplinary degrees that do not have a concentration
Be in the Know: Making the Most of MyCAA
To make the best use of your funds and avoid allocating MyCAA money where it can't be used, be sure to use the complimentary career counseling provided by Military OneSource (the organization that oversees the MyCAA program). Their spouse education and career opportunities (SECO) certified counselors can provide resources ranging from financial planning to goal setting and can help you navigate the dos and don'ts of MyCAA spending. You can reach them at 800-392-9647.
Iris: Where MyCAA Guided Me
As a military spouse and mother, Iris was looking to expand her marketability beyond a high school diploma so she could help provide for her family. She wanted a certification program that would lead her to a mom-friendly career. When she reached out to a career counselor at MyCAA, she was pointed to a program that worked best for her.
"MyCAA guided me to CareerStep to further extend my education," said Iris in an interview. "I chose to go with the Pharmacy Tech program because (being a) pharmacy technician would definitely give me room to be able to create my own schedule."
Iris explains further why the lifestyle of pharmacy technician excited her. "It helps me be a soccer mom or a football mom if I wanted to, and not just have to be committed to work, but also balance my family at home."
CareerStep's MyCAA-Approved Online Certificate Programs
As Iris discovered, CareerStep offers flexible online training for in-demand careers that are excellent options for military spouses. We offer a range of options in healthcare, administration, and technology programs that are all MyCAA approved. In fact, the cost of our affordable programs can be completely covered by your MyCAA scholarship! Created for the on-the-go student, these training programs allow you to study at the pace that ensures your success and fits your life—no matter where your spouse is based for their military service.
Want to know more about how you can use MyCAA to further your career? Come back for our upcoming posts, where we'll take a deeper dive into what the application process looks like and how to rate the quality of a MyCAA-approved certificate program.