Start Your Own Medical Transcription Business
Posted on 08.10.2015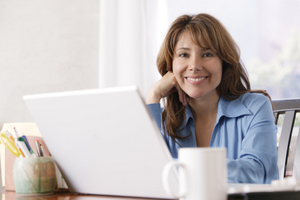 Self-employment comes with some great perks; besides being your own boss, you often will spend less, make more, control your business and schedule, and feel more fulfilled. If becoming self-employed is part of your dream, here's a suggestion—medical transcription. Even if you have no training in medical transcription currently, with the right program, school, connections, and home office, you can be your own boss within the year.
Step 1: Choose the right school and program.
The right school and program can make all the difference in starting a medical transcription career. This field can be notoriously hard to break into if you don't have the right names on your resume. Here are a few things to make sure you should consider when choosing…
Reputation – You need to start with an employer-trusted program at a reputable school. If you want to work as a medical transcriptionist you must have the right training, so be sure to do your research, possibly even call employers. The right school can make all the difference; for example, CareerStep graduates are preferred by employers, many of which waive experience requirements for graduates because they trust in the training the graduates received.
School type – Medical transcription training courses are available on college campuses as well as through trade schools and certificate programs. When looking for a program, consider online training, particularly if you're transitioning from an existing job and need to work and study at the same time. Many online schools provide programs that can be completed at your own pace and in as little as a few months.
Program – Medical transcription is much more than just transcribing recorded doctor dictations—your program must include training in the latest advances in the field, such as editing files generated by speech recognition software and electronic health record systems. Your program should prepare you thoroughly for the workforce and include typing skills, medical terminology, grammar and punctuation, anatomy and pharmacology, and medical record types and formats. You will also need real-world experience—aka practicing on real doctor dictations and patient records as part of your training. The best training programs give you experience, not just a certificate.
Graduate resources – The medical transcription school you choose should also offer support services to graduates. You want a program that offers resources such as employer connections, national certification exam vouchers, job finding assistance, and career counseling services. Above all, be sure to take advantage of these resources while they are offered—soon you're on your own!
Find work
With quality training from a reputable school, finding a job after graduation can be easy. In fact, 90% of CareerStep's medical transcription graduates get jobs right out of training. However, you have other options.
Many medical transcriptionists work as independent contractors for an established medical transcription company. This provides the schedule flexibility of being self-employed but does not require finding your own clients. If you want to start your own business in medical transcription, it will take some time and dedication to establish a cliental. You can find clients through medical transcription networking sites like MTDaily or dedicated job portals like MTJobs.com as well as freelance websites like elance.com, ifreelance.com, and odesk.com. You should also distribute your resume and spread the word about your services to healthcare centers in your city. Local clinics may be more than happy to outsource their medical transcription to a local professional.
Set up your home office
If you decide to start your own medical transcription business—even if you are the only employee—you first need a business license. Apply at the licensing department at your city hall and be sure to ask about any other licensing requirements and HIPAA (health information privacy act) regulations.
When setting up your office, choose a well-lit quiet corner of your house, preferably a separate room away from distractions. You'll need the typical equipment—desk, chair, computer, bookshelf, etc.—as well as items specific to medical transcription like quality headphones, reference books, special software programs, and a transcription pedal. You'll be spending lots of time in this room, so invest in quality, ergonomic gear that will keep you most comfortable. For some specific ideas on how to make an effective home office space geared towards medical transcription editing, check out this blog post.
Being your own boss is a dream that can easily become reality, thanks to quick, quality training programs and the in-demand career of medical transcription. Already a medical transcription student? Just think! You could be writing your own checks within the year. Learn more about CareerStep's medical transcription school training program for a great career and great earning potential.