Job Market for Medical Administrative Assistants
Get Started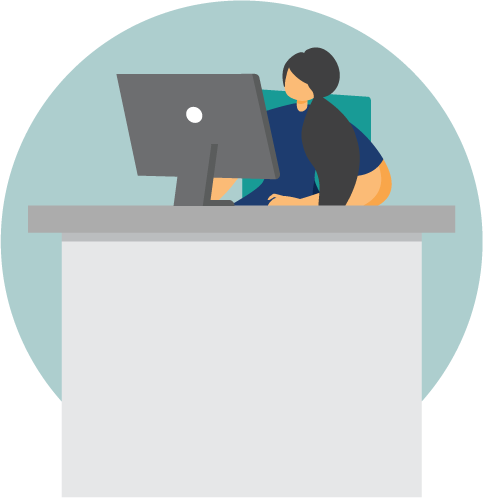 Job Duties
What does a medical administrative assistant do, you ask? Essentially, they act as the face of the medical office and manage essential tasks and documents. This includes the following responsibilities:
• Greeting and checking in patients
• Scheduling appointments
• Processing payments and insurance claims
• Preparing and maintaining medical records and charts
• Complying with HIPAA (Health Insurance Portability and Accountability Act) regulations
• Editing data and running reports
Sound like something you'd enjoy? At CareerStep, we offer courses to help learners prepare for success as an administrative assistant in the medical field.
Work Environment for Medical Administrative Assistants
No two days as a medical administrative assistant are exactly the same, and it's important to have a diverse skill set to meet the demands of a busy clinic or hospital. You'll be expected to be computer savvy, organized, and an excellent communicator. Candidates who can work independently and effectively assist physicians with day-to-day activities will do well in this position. It's also important to enjoy fast-paced environments and approach work with close attention to detail.
Medical administrative assistants play a critical role in any organization because they are in charge of so much. Whether you're scheduling appointments, making travel arrangements, or prioritizing different office needs, you'll keep things running smoothly so doctors and physicians can focus on their patients.
Medical Administrative Assistant Pay Scale
Administrative assistants in the medical field need to juggle various tasks and assist both physicians and patients. In this career path, you'll have the stability of a rewarding job that provides you with a satisfactory pay scale. Administrative assistants are estimated to earn between $29,000 and more than $53,000 annually, depending on the work environment, qualifications, and the duties expected of them.
Industry Demand for Medical Administrative Assistants
Medical administrative assistants will always be in demand because they're such an essential element of a hospital or clinic front office. Physicians rely on their staff to take care of all the day-to-day responsibilities they can't manage without help. It's a big responsibility, and professionals in this role must have a broad skill set and understand both medical and clerical procedures to be successful.