Phlebotomy Technician Job Market
A rewarding career is closer than you think.
Get Started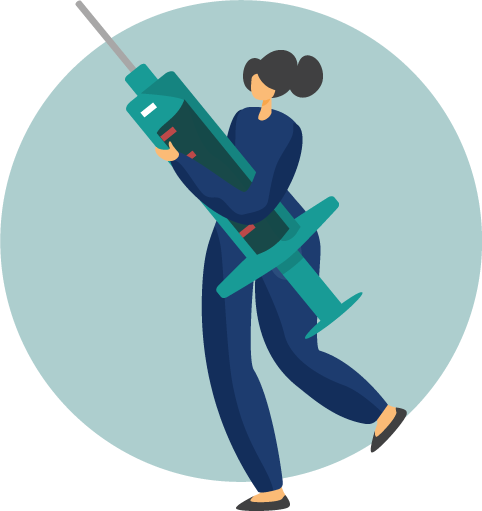 Job Duties
What does a phlebotomy technician do? More than just poking people. You'll be a critical member of the medical team and play a vital role at the healthcare facilities you work in. A typical day in your new life as a certified phlebotomy tech will probably include:
Drawing blood from patients and donors for tests, transfusions, donations, or research.
Calming people and perfecting the talent of inflicting more kindness and compassion than pain.
Verifying patient and donor identity to ensure proper labeling of drawn samples.
Labeling blood samples for testing and processing.
Entering patient information into the facility's computer system.
Assembling and maintaining medical instruments, like needles, test tubes, and vials.
Work Environment
Certified phlebotomy technicians are needed in almost every type of healthcare facility coast to coast. You can work in hospitals, doctors' offices, urgent care centers, diagnostic laboratories, blood donor centers, and home health agencies, among other job options.
Most phlebotomy technicians work standard daytime hours, but the 24/7 nature of healthcare makes night and weekend schedules an option too, particularly in hospitals.
Further specializing and certifying in other medical areas will open up even more job opportunities and upward mobility to you.
Pay Scale
Of course, salaries vary by employer, geographic location, and experience. But the Bureau of Labor Statistics puts the median annual wage for phlebotomy technicians at $37,380.* So you can make a good living, and considering the nature of this business, you may also qualify for invaluable healthcare benefits. Further specializing and certifying in additional medical areas will increase your value to employers and improve your income opportunities.
Industry Demand
Becoming a certified phlebotomy technician can be a great career choice. With an ever-growing demand for healthcare workers, there could be plenty of opportunities to find a job in the field. In fact, the Bureau of Labor Statistics predicts that demand for phlebotomy technicians will grow around 10% over the next decade!*
*Bureau of Labor Statistics, U.S. Department of Labor. "Phlebotomist" Occupational Outlook Handbook. Accessed March 9, 2023.
Statements found in the United States Department of Labor Occupational Outlook Handbook are not a guarantee of any post-graduation salary, in part because the data used to create the Occupational Outlook Handbook includes workers from differing educational backgrounds, levels of experience, and geographic areas of the country.