Mental Health Training Online
If you're interested in starting a rewarding career helping others, you can take the first steps toward getting the training and qualifications you need online with CareerStep. Through CareerStep's mental health support programs, you'll build the skills that can allow you to be an effective, caring mental health technician or peer support specialist – 100% online, at your own pace.
Behavioral and Psychiatric Health Technician
Teaches the skills you need to provide direct services and support to patients in need of behavioral health intervention.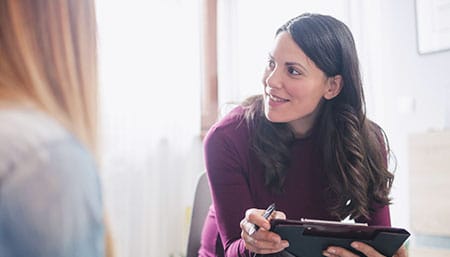 Mental Health Technician
Learn how to recognize behavioral health patterns and treat patients who were menatally and physically abused.
Mental Health Training Programs FAQ
How do I train as a mental health support worker?
First, it's important to know what kind of mental health support job you're interested in. While there are many roles in the field that do require you earn at least a bachelor's degree, there are several that don't. For certain support roles in the mental health field, you just need to have earned your high school diploma or GED, gotten some formal training and education, earned any necessary certifications, and pass any required background checks from your prospective employer.
How do I get a job in the mental health field?
Depending on what job you're interested in, the first step to getting a job in the mental health field is gaining the skills and knowledge required from a formal training program. Once you've completed your education, you'll then want to determine which certifications you need to qualify for the job you want. From there, after you've successfully completed training and certification, you'll want to make sure to update your resume to show employers you have the skills they're looking for and start applying for jobs!
What jobs are available in the mental health field?
As more people pay closer attention to mental health, there's a growing need for workers in a variety of jobs in the field. While the first job that comes to mind is becoming a psychologist or psychiatrist, there are plenty of mental health support roles that don't require the long years of education that becoming a doctor does. Some jobs available in the mental health field include
Mental health technician
Peer support specialist
Behavioral health technician
Alcohol and drug abuse counselor
Mental health advocate
It's important to note that each job may require a different level of education to be eligible for the job and, since many include working with patients and in a healthcare setting, you may be required to pass background checks to get the job.