Substance Abuse Counselor Job Market
Train for a career you'll love.
Get Started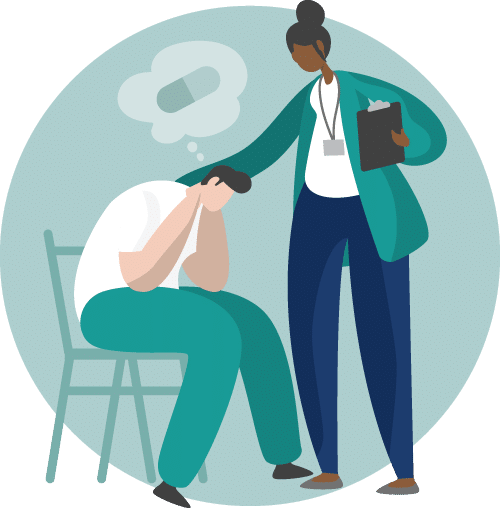 Job Duties
Everyone has their vices. Those unhealthy (but generally harmless) habits we develop over time. But left unchecked, those innocuous behaviors can transform into devastating addictions. Substance abuse counselors are compassionate, patient, understanding, and possess excellent interpersonal skills. They're also the first—and often last—line of defense for people struggling with drug and alcohol dependencies. Here's a breakdown of their responsibilities:
>

Evaluating clients' mental and physical health, addiction, or problematic behavior

>

Assessing patients' readiness for treatment

>

Developing, recommending, and reviewing treatment goals and plans with clients and their families

>

Assisting patients in developing skills and behaviors necessary to recover from their addiction

>

Working with clients to identify behaviors or situations that interfere with their recovery

>

Teaching clients' family members about addiction
Work Environment
Substance abuse counselors operate in a variety of environments that range from mental health centers and community centers to prisons and private practices. It's challenging, rewarding work that transcends the confined spaces of any typical work environment.
Pay Scale
Your substance abuse counselor salary will depend on your location and experience, but the national average income is $44,000.*
Industry Demand
Substance abuse counselors change lives. They work with people from all walks of life—and their impact is undeniable. And so is the need for qualified professionals. As mental and physical health continue to take center stage, experts predict a 22% job-growth rate over the next 10 years.