How to Become a Certified Veterinary Assistant Online
Posted on 08.29.2023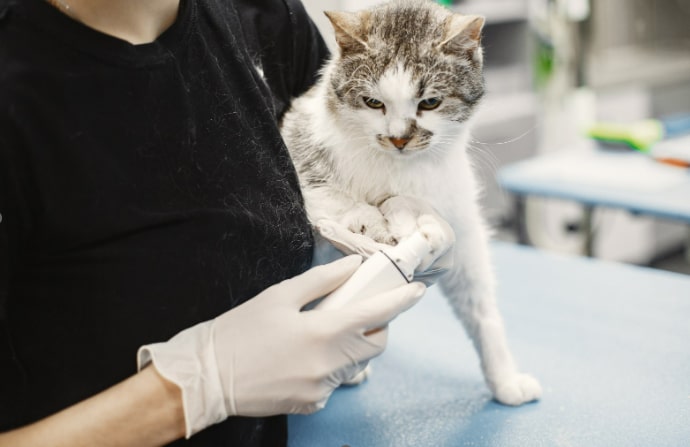 Author: Des Sinkevich
Time to read: 4 minutes
Are you an animal lover looking for a fulfilling career in the veterinary field? Becoming a certified veterinary assistant may be perfect for you! Here's what you need to know about what it takes to become a certified vet assistant and the skills needed to excel in the field.
What is a Certified Veterinary Assistant?
A Certified Veterinary Assistant is someone who assists veterinarians with their daily duties, such as providing medical care for animals and educating pet owners on animal health. They usually work in hospitals, clinics, or research facilities under the supervision of a veterinarian or veterinary technician.
Common Veterinary Assistant Duties
Veterinary assistants play a critical role in the smooth running of any veterinary clinic or hospital. Their duties are diverse and crucial to ensure optimal animal care. Some common responsibilities include maintaining clean and sterile environments in exam and operating rooms, providing basic care to animals (such as feeding, bathing, and exercising), assisting during examinations by restraining animals when necessary, and administering medication or vaccines under the supervision of a veterinarian. They also often handle administrative tasks such as scheduling appointments, maintaining patient records, and managing inventory. These responsibilities may vary based on the size and scope of the practice, but they illustrate the integral role that veterinary assistants play in animal healthcare.
What Skills Do You Need to be a Veterinary Assistant?
To excel as a Veterinary Assistant, certain skills are crucial.
Compassion: As a veterinary assistant, you are dealing with animals who may be in distress or pain. Your compassion for these animals and their wellbeing is essential.
Medical Knowledge: A solid understanding of animal anatomy, common diseases, and basic medical procedures is necessary. This knowledge is usually gained through education and on-the-job training.
Communication Skills: You will need to interact with pet owners, explaining medical procedures and giving updates on their pets' health. Good communication skills are essential to ensure information is relayed effectively.
Physical Stamina: The job can be physically demanding with tasks like lifting heavy animals or standing for long periods. Physical fitness, therefore, is an important requirement.
Attention to Detail: Veterinary assistants often need to follow detailed medical instructions and monitor animals' responses to treatment. Careful attention to detail can, therefore, make a significant difference to an animal's recovery process.
Do You Need to Go to College to be a Vet Assistant?
While a college degree is not strictly required to work as a veterinary assistant, pursuing a related field of study can significantly enhance your knowledge and employability. Many vet assistants may opt for a certificate program, typically lasting between 6 months to 1 year, that provides hands-on training and experience in a clinical setting. However, there are also plenty of on-the-job training opportunities where you can learn directly from experienced veterinarians or vet technicians.
Furthermore, becoming a Certified Veterinary Assistant requires completing an approved credentialing program, which might also include an internship or externship. So, while college is not mandatory, education and practical experience are critical to succeed in this profession.
The Steps to Become a Certified Veterinary Assistant
Understand the Role: Before you embark on your journey, it's essential to thoroughly understand the role and responsibilities of a veterinary assistant. This involves researching, shadowing a professional, or volunteering at an animal clinic or shelter.
Education: While a college degree isn't mandatory, having a high school diploma or equivalent is typically required. Consider enrolling in a veterinary assistant certificate program, which can often be completed in less than a year. These programs provide theoretical knowledge and practical training in animal care.
Hands-On Experience: Practical experience is crucial in this field. Internships or externships through your educational institution, or volunteering and job-shadowing can provide this experience.
Certification: Once you have acquired the necessary knowledge and skills, the next step is to become a Certified Veterinary Assistant. This involves completing a certification exam from a recognized organization, such as the National Association of Veterinary Technicians in America (NAVTA). The standard exam is the Approved Veterinary Assistant (AVA) exam, which is offered through NAVTA.
Continuous Learning: Finally, remember that learning doesn't stop once you've obtained your certification. As medical procedures and treatments are continually evolving, it's important to keep up-to-date with the latest advancements in veterinary care. Continuing education and professional development opportunities are valuable for staying current in the field.
Can You Become a Veterinary Assistant Online?
Yes, it is certainly possible to become a veterinary assistant online. Many institutions provide online courses designed to equip students with the essential skills and knowledge necessary for this role. These programs typically cover topics such as animal behavior, care, and handling, basic veterinary medicine, and office procedures. After completing the coursework, some programs might require a hands-on externship at a local veterinary hospital or clinic to gain practical experience. However, requirements can vary, so it's important to research each program thoroughly.
When considering an online vet assistant training program, you'll want to make sure that the curriculum covers the skills you'll need to know and that it can help you prepare for certification! With CareerStep's NAVTA-approved Veterinary Assistant Training, you not only will build essential skills in courses like animal anatomy and surgical nursing, you'll also apply those skills to real-world situations in a required externship. In your externship, which can be completed at a vet clinic near you, you'll practice the skills you learned online in real life and get a better understanding of the day-to-day work a vet assistant does.