Moms as Hemodialysis Technicians
Posted on 05.26.2020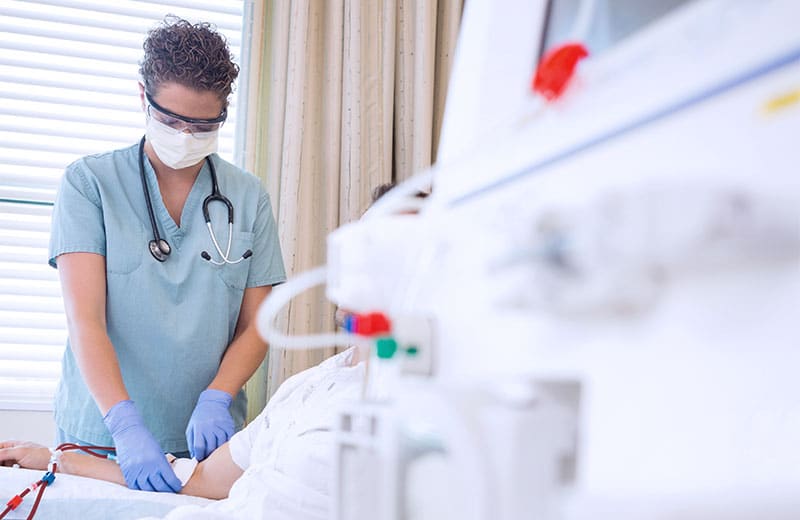 All professionals have to find a way to strike a healthy work-life balance, but that balance is even more crucial for working moms. That's why choosing a career that allows you the sustainability, flexibility, and fulfillment you need as a mother is so important.
A career as a certified hemodialysis technician could be the perfect fit for you.
Working as a hemodialysis technician sets you up for a rewarding career with many future opportunities for upward movement in leadership and additional medical care positions. You can provide for your family's needs and fill a critical role in America's healthcare industry.
What do hemodialysis technicians do?
Hemodialysis technicians provide lifesaving dialysis procedures for thousands of patients with kidney disease. As the U.S. population skews increasingly older, this procedure will become critical for thousands more Americans. Working as a dialysis technician requires a highly specialized skill set, training that will set you apart from other candidates for medical care positions.
Dialysis techs typically work in doctor's offices and hospitals. Some may provide treatment to patients in their own homes or in specialty treatment facilities. They help patients feel comfortable — mentally and physically — during their treatment as well as:
Set up, monitor, and clean dialyzing equipment
Maintain a sterile environment
Prepare and educate the patient
Administer dialysis treatment
Access the patient's vascular system
Monitor and adjust medication and fluid rates
Take vital signs
Because of the nature of their work, hemodialysis technicians enjoy standard daytime work schedules. Many work full time, but part-time opportunities may also be available.
The average full-time hemodialysis technician salary is about $42,000 a year, but that number varies based on your employer, location, and experience. Additional training and certifications can also increase your average earnings.
How can I use my skills as a mom in my job as a hemodialysis technician?
Working moms have a built-in advantage when pursuing jobs in the medical field. Parenting skills like multitasking, communicating, and organizing are also essential skills for hemodialysis technicians.
As you work with patients, the same care and empathy that is required as you parent your children is necessary as you calm patient fears and help them through what can be a stressful procedure.
While entering or reentering the workforce as a mom can be a huge adjustment, it can be done successfully. Here are a few tips:
Stay organized. Keep your family schedule and work schedule on the same calendar so you can easily see all your responsibilities in one place. Try to keep work hours and home hours separate so you can leave your work at the office and enjoy your time at home.
Build a support network. Don't be afraid to ask for help. Build a support network of fellow working mothers who can offer advice and solidarity.
Be comfortable with your childcare. Whether your children are old enough to be in school or young enough to need constant attention, make sure you are at peace with the child care decisions you make. Knowing your child is safe and cared for allows you to focus on your work and perform your best for your patients.
Be proud of what you do. Share what you do with your children. Help them understand the important contributions you make each day and how you help people. If you are proud of what you do, they will be proud of you too, and they will be happier supporting you in your career goals.
Where can I complete training to be a certified hemodialysis technician?
Participating in a certified Hemodialysis Technician program prepares you to pass your certification exam and enter the workforce with the necessary skills to thrive. CareerStep's hemodialysis technician online certified program allows you to complete your training on your own schedule and in the comfort of your own home.
You can complete our Hemodialysis Technician with Externship program and be prepared to take an industry-standard certification exam like the CHT, CCHT, and CCNT tests.
Learn more about our Hemodialysis Technician with Externship program today!