Women as Medical Coding and Billing Experts
Posted on 06.09.2020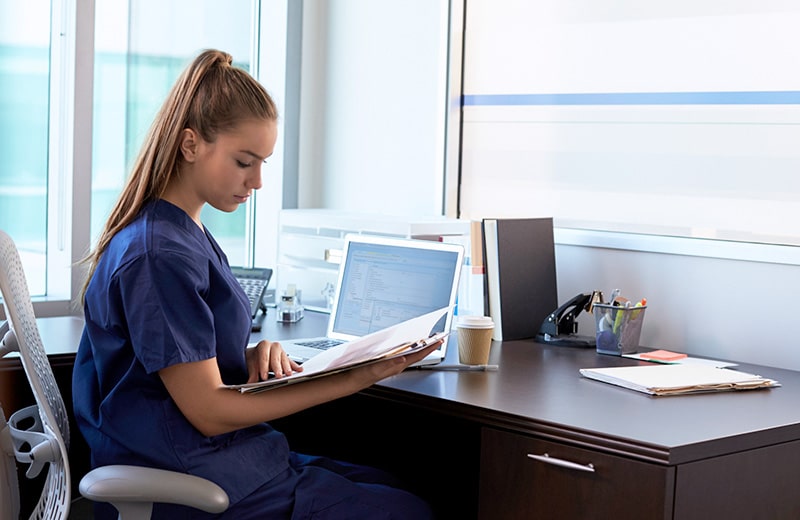 3-Minute Read
Did you know that during the 2009 recession, many women exited the struggling job market and returned home? But now, a decade later, new employment opportunities and the rise of telecommuting have made it possible for many women to return to the workforce on their own terms.
A medical billing career offers women the best of both worlds — a financially rewarding career with a stable job forecast and the flexibility to work remotely while attending to personal obligations.
TL;DR
Don't have time to read the whole piece? No problem. Check out our key thoughts below:
Medical coding and billing provides a way for professionals to break into a myriad of flexible healthcare careers without a degree (it's also a killer gig to invest in if you need to work from home).
Every practice employs a medical coding and billing professional to work with insurance companies, ensure their providers are paid, and work with customers on paying their premiums.
You can totally become a medical coding and billing expert with CareerStep, which gives you the flexibility to set your own study hours and take your training at your own pace. We'll even provide everything you need to get started.
Why Medical Coding and Billing?
Looking at today's climate, it's really no surprise that healthcare is one of the nation's fastest-growing industries. Still, many jobs in this sector require advanced degrees. This is probably for the best, as many of us wouldn't want our surgeons to skip out on grad school.
After high school, many of us didn't know what direction to pursue in regards to a career, and it's not uncommon to find many of our peers working in positions that didn't require a degree. This slight shift in the workforce now offers many medical positions that only require a career training program to get started.
Every healthcare employer has medical coding and billing at the heart of its practice. These professionals ensure that healthcare providers are paid, that the proper information is communicated to insurance companies, and that patients have a clear understanding of how to pay their bills.
There is currently a nationwide shortage of medical coders and billers. Estimates show that there are 50% more coding positions available than professionals to fill them. And, this career is projected to enjoy new job growth of about 13% by 2026.
Can you work from home as a medical coder? Careers in medical billing and coding at home are definitely possible. Many coders and billers work as freelancers and set their own work hours and fees. Or, they work with a partner group that makes remote contracts available.
What Will I Do as a Medical Coding and Billing Expert?
A medical coding and billing specialist reviews patient medical records and assigns the proper codes to the various diagnoses and procedures performed. These codes are used to bill insurance, Medicare or Medicaid, and the patient.
Coders use specialized code sets:
Many medical coding and billing positions are on-site at hospitals, clinics, physicians' offices, and other specialty healthcare facilities. Some work from home as well.
The average annual salary of medical coders and billers is $51,477. This salary can increase as coding and billing experts earn additional industry credentials.
How Do I Train for a Career in Medical Coding and Billing?
CareerStep's Medical Coding and Billing program is designed by experts with decades of experience in the field. This online program can be completed online and at your own pace. In as little as 4 months of full-time study, you'll be ready to enter the workforce.
During the course, you'll review a variety of topics:
Computer fundamentals
The health information management process
Reimbursement methodologies
Medical terminology, anatomy, and physiology
How to use 3M encoding software
You'll practice coding actual medical records provided by our employer partners. We've partnered with RCM Health Care Services, a premier provider of staffing solutions for over 400 healthcare institutions, to help graduates find job opportunities. Additionally, you'll receive a one-year student AHIMA membership.
And, all CareerStep learners are eligible to sit for the CPC or COC exam offered through AAPC or the National Healthcare Association's Certified Billing and Coding Specialist exam. We also include an optional PCS procedural code set course that provides the additional training needed to sit for the CCA exam offered through AHIMA.