Trade School, Online Learning, or University: Breaking Down Your Options
Posted on 09.25.2020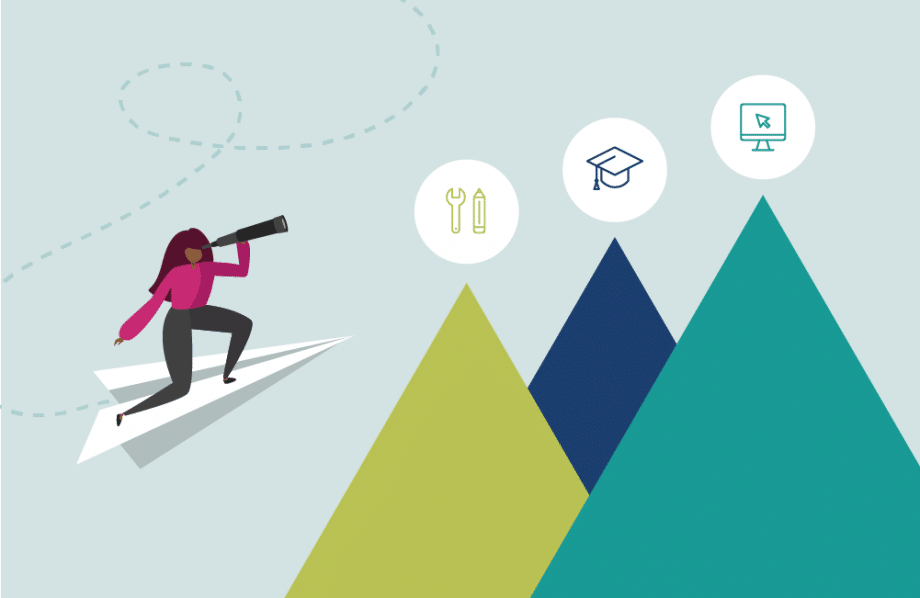 3-Minute Read
In today's job market, education is essential. The competition is fierce, and as you fight for the attention of the country's fastest-growing companies, your schooling could be what lands you your next dream gig. But, there are many different ways to get an education.
There isn't a one-size-fits-all solution.
Outside of a four-year university degree, there are alternative education options like trade school and online career training that may make more sense for your situation.
Let's explore your options further by comparing these types of career training below.
TL;DR
Don't have time to read the whole piece? No problem. Check out our key thoughts below:
Attending university is a default choice for many but can be expensive and doesn't always guarantee a career in what you study
Vocational or trade schools allow individuals to study practical and evergreen careers that continue to hold relevance in a changing world
Online career training combines the benefits of a trade school with flexible and affordable training in a myriad of exciting careers.
University
Attending a university is one of the most common educational paths. It typically takes four years to complete a bachelor's degree, costing an average of $127,000. Of course, some students may take longer, depending on personal circumstances.
Universities are accredited by national and regional accrediting bodies and offer a wide curriculum with a variety of tracks and emphases. Most require a core curriculum outside of your chosen specialization, which means you'll take some classes that aren't as relevant to your future career path as others.
A university education may be right for you if qualifying for your desired career requires a four-year degree or you want to expand your knowledge across a wider array of topics than one specific skill.
Why wouldn't a university education be your first choice?
College tuition has gone up 213% in the past few decades.
Most people take 6 years to earn a four-year college degree.
44% of college graduates are underemployed.
The average student debt from four-year public schools in 2018 is $26,900.

Trade School
For learners who want a classroom experience but are looking to gain specific skills outside of a University degree, trade school — also known as vocational, technical, and career school — can be a very viable option.
Trade school training generally takes two years to complete, but like a Bachelor's degree, this time frame varies based on personal circumstances. These institutions offer certifications and Associate degrees in areas like construction, auto repair, plumbing, interior design, cosmetology, and food preparation. The average cost of completing a trade school program is $33,000.
And, this lower cost of tuition doesn't result in a massive difference in earning potential. Graduates of a trade school have a median annual salary of $35,720 while the predicted earnings for four-year degree holders is $46,900.
Online Learning
Online learning is an exciting option for learners who want to get quality training at a lower cost and enter the workforce in months rather than years. At CareerStep, completing our courses results in online certification that is nationally recognized in each specific field.
CareerStep courses are accessible 24 hours a day, seven days a week. And, as we adjust to a new way of life in the midst of a global pandemic, eLearning has its perks: no crowds, no stuffy classrooms, and no commute.
Learners can complete courses from the comfort of their own home and at their own pace. Many programs can be completed in six months or less. Which means that those with full-time jobs can continue working while completing their training.
The cost of online learning with CareerStep varies by course and ranges from $199 to $3999. Our programs are approved by the following industry experts:
American Academy of Professional Coders (AAPC)
Association of Healthcare Documentation Integrity (AHDI)
Computer Technology Industry Association (CompTIA)
National Healthcareer Association (NHA)
American Society of Health-System Pharmacists (ASHP)
Accreditation Council for Pharmacy Education (ACPE)
Pharmacy Technician Certification Board (PTCB)
If online career training sounds like it might be the right fit for you, explore our programs today.