Pharmacy Techs Deserve More Cash
Posted on 06.06.2016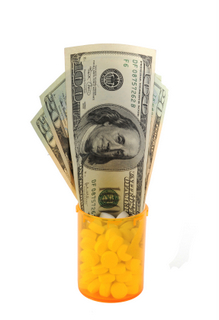 Do you make over $56,000? Because that's the annual cost of living for a family of 3. If you are a family of 6, that number skyrockets to $82,900. Despite specialized training and essential skills, on average, pharmacy techs earn $30,410 a year—it's not hard to do that math. Here are 5 reasons why pharmacy techs deserve higher pay.
1. The backbone of the pharmacy
Pharmacy techs are essential to a functioning pharmacy. Greeting patients, filling out prescriptions, stocking shelves, managing inventory, keeping books, and maintaining records not only keep a pharmacy tech busy: these functions make them an indispensable member of the team. It's only fair that the compensation reflects accordingly.
2. The responsibility
Pharmacy techs do more than simply fill the pharmacist's orders. They are also responsible for the orders and act as an additional safety net to catch misfilled drugs. Before even filling the prescription, a tech is responsible for verifying and checking all valid information. Then he/she must fill the prescription correctly and exactly; one tiny mistake can be catastrophic for the patient.
These drugs aren't something to joke about. Pharmacy techs routinely work with controlled substances and addictive or hazardous drugs. Some are also extremely expensive, putting the tech in an increased position of responsibility.
Many pharmacy techs also have additional responsibilities depending on where they work. For example, it's not uncommon for pharmacy techs working in hospitals to prepare IVs, compound medications, and create nutritional mixtures. They also fill many more prescriptions than those in the average retail pharmacy.
Given the degree of accountability on their shoulders, techs should expect a salary that acknowledges that responsibility.
3.  The stress
Many pharmacy techs operate in extremely stressful environments, especially those working in hospitals, and the job calls for long hours standing and weekend and/or night shifts. On top of that, pharmacy techs may have to deal with rude, demanding, and confused customers who often don't show them the respect they deserve. Higher pay will not reduce the amount of stress pharmacy techs work under, but it will definitely boost their morale and encourage quality work.
4. Retaining high-caliber techs
With such a high responsibility job, employers need to make retaining high-caliber techs a priority. According to a Pharmacy Staffing Survey,as of 2013 the average turnover rate for pharmacy technicians was 13.4% while that of pharmacists was much lower at 5.6%. One of the ways to retain good quality and experienced pharmacy techs is to increase their wages. Doing so will increase efficiency and may even lower operating costs in the long run: employers will avoid costs associated with training new techs or juggling pharmacy tech shortages.
5. The training requirements
The days when pharmacy techs could be trained on the job are long gone. Most employers prefer to hire pharmacy techs who have completed post-secondary vocational programs, such as CareerStep's Pharmacy Technician online training program.
Training can take anywhere between 4 months and a year with most programs.  On top of that, some states and employers require pharmacy technicians to earn a certification from the Pharmacy Technician Certification Board (PTCB) or National Healthcare Association (NHA). Technicians thus certified need to recertify every 2 years. Obviously a career that requires such specialized education and certification should reward accordingly for the required time and effort.
Looking into a career as a pharmacy tech? Don't be scared off—there are lots of benefits beyond strictly salary, such as a flexible work schedule, tons of options near your home, and a growing job market.
The role of a pharmacy tech is so much more than a cashier and is becoming more and more complex and jam-packed with responsibility. It's about time that pharmacy techs earn what they deserve!
So how can you ensure that you max out the pay scale in your pharmacy tech career? Be sure to complete a quality training program, get certified, keep up your certifications, investigate multiple employment options/work places, and be a valuable employee. Already a pharmacy tech? How do you maximize your earning potential? Let us know in the comments below.