The ICD-10 Transition: Your Employer's Top 5 Challenges
Posted on 09.14.2015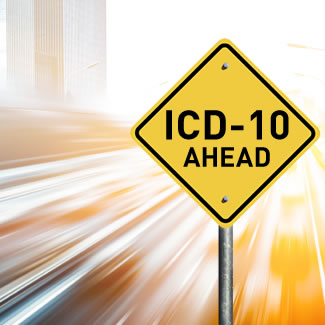 ICD-10 will roll out nationwide on October 1, bringing with it a slew of challenges to the healthcare industry and those with medical billing and coding careers. Since ICD-10 is a whole new code set, healthcare providers are investing time and money into everything from employee training to new software and paperwork.
To prepare for this change as a medical coder and biller, you need to understand the challenges your employer (or future employer) will be facing in the transition and how to help in the process. Thanks to Athena Health, here are 5 top challenges providers will face with the transition.
1. Lack of preparation
Practices' biggest concern is the lack of preparation by their billing, practice management, and EHR vendors. Unless the vendors are prepared, the results could be catastrophic for your employer—aka, a huge loss in productivity and revenue.
As a medical coder, you can be a driving force in questioning vendors on their ICD-10 readiness right away and making sure everyone is prepared for the transition.
2. Payer readiness
Vendors aren't the only ones that may not be prepared. Can you be believe that 39% of payers surveyed in 2012 admitted that they would likely not be ready for the 2015 ICD-10 transition?
You can be a huge help by keeping track of each payer's ICD-10 readiness and submitting the right codes to them accordingly.
3. Staff training
ICD-10 is much more complex than the ICD-9 code set, and learning all the new codes is a huge challenge. Staff training is essential and, unfortunately, potentially very expensive. According to Athena Health, training costs are in the thousands—even up to $75,000 for a large practice.
Hopefully you are already trained in the new system; if not, check out an online course such as CareerStep's ICD-10 for ICD-9 Coders. However, remember that no amount of classroom or online training can replace hands-on practice with the ICD-10 code. If possible, start using the new system well before the cutoff date. That way you'll have time to get used to the code set without the pressure of 100% accuracy.
4. Reduced productivity
With such a big change involving multiple parties, new training, and new practices, your employer may fear a loss of productivity. Vendors need to develop a system that makes dual coding easier and allows staff to use their existing knowledge of ICD-9 to adapt to ICD-10 coding. Impress your employer with your knowledge of both systems and show how invaluable you are to the organization by helping brainstorm ways to stay efficient.
5. High cost of transition
Athena Health estimates that the transition could cost practices hundreds of thousands of dollars—possibly even millions! This is all due to staff training, reduced productivity, delayed payments, software upgrades, and more.
Early training and practice on the ICD-10 system can help minimize costs related to productivity and payment delays. Your own preparation can make a big difference in a smooth transition for your employer and help you stand out as an exceptional medical coder and biller.
What ideas do you have for helping employers or potential employers during this time of transition? Let us know in the comments below. Want to learn more about rewarding medical coding careers? Check out CareerStep's online training program here.