2016 CPT Changes
Posted on 12.09.2015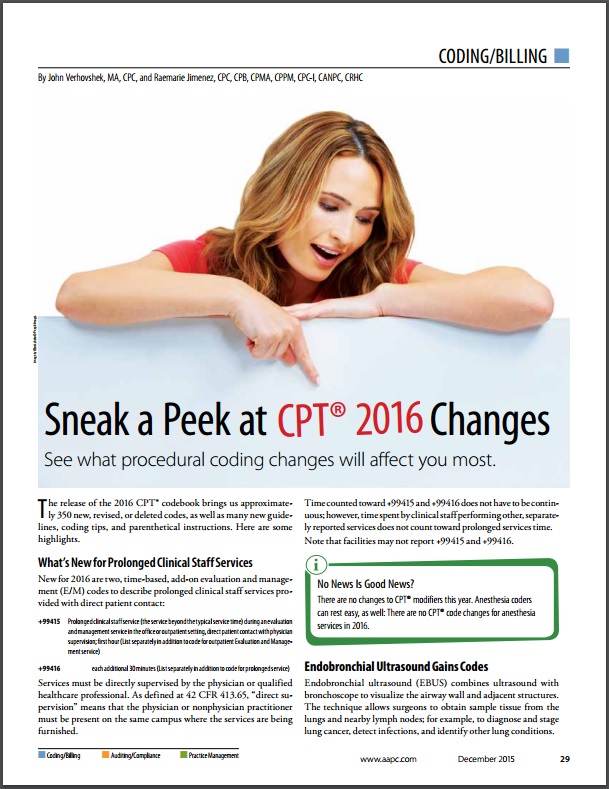 Happy New Year!  For those undergoing ICD-10 training, 2016 has brought 125 additions to the CPT code set, 75 deletions, 115 revisions, and modifications to some of the guidelines as well.  Remember to reference Appendix B in the 2016 CPT book for a summary of additions, deletions, and revisions.  Here is a very brief breakdown of some of the new changes.
There are 2 new add-on codes that should be used when an Evaluation/Management service is provided in the office or outpatient setting that involves prolonged clinical staff face-to-face beyond the typical time stated in the E/M code description.
+99415: Prolonged clinical staff service (the service beyond the typical service time) during an evaluation and management service in the office or outpatient setting, direct patient contact with physician supervision; first hour (list separately in addition to code for outpatient Evaluation and Management service).
+99416: Each additional 30 minutes (list separately in addition to code for prolonged service).
10035 and +10036 are new for 2016. These 2 codes are to be used for soft tissue-marker placement with imaging guidance. They are to only be used once per target, regardless of how many markers are used to mark the target.
10035: Placement of soft tissue localization device(s) (e.g. clip, metallic pellet, wire/needle, radioactive seeds), percutaneous, including imaging guidance; first lesion.
+10036: Each additional lesion (list separately in addition to code for primary procedure).
In the biliary system there are some changes. One new code is the rendezvous procedure, code 47541. This procedure involves placing access through the biliary tree and into small bowel to assist with an endoscopic biliary procedure, percutaneous.  It includes diagnostic cholangiography when performed, imaging guidance, and all associated radiological supervision and interpretation. This code is to be used for a new access. This code is to be used when the ERCP scope is advanced into the common bile duct.
Other code descriptions have been clarified such as 47537, which now requires fluoroscopic guidance.
47538 is for placement of each stent. The indented code 47539 is for new access without placement o separate biliary drainage catheter, 47540 is for a new access.
Pay attention to code changes in the radiology section for hip x-rays and spinal x-rays.
For the pathology and laboratory section, please reference appendix B to see the list of changes.
If you are a medical biller and coder, the 2016 book which includes a comprehensive list of changes should be your primary reference. The AAPC article in the Healthcare Business monthly December 2015 publication is also an excellent reference.