Dermatology Coding
Posted on 04.08.2015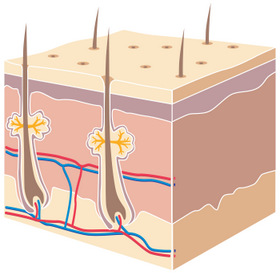 During the national AAPC conference I attended a class on dermatology coding. We discussed the definitions of a simple, intermediate, and complex wound repairs. It was shocking to see how much confusion exists when it comes to correctly classifying the repair of a wound. The CPT book provides very clear definitions of the type of repair.
A simple repair is used when the wound is superficial, when it involves mostly the epidermis or dermis, or subcutaneous tissues. It uses a one simple layer closure and includes local anesthesia and chemical or electrocauterization of wounds not closed.
An intermediate repair involves a layered closure of at least 1 deeper layer of the subcutaneous tissues and superficial (non-muscle) fascia in addition to the skin (epidermal and dermal) closure or a single-layer closure of heavily contaminated wounds that require extensive cleaning or removal or particulate matter.
A complex repair requires more than a layered closure, such as scar revision, debridement, extensive undermining, stents, or retention sutures. Necessary preparation includes the creation of a defect for repairs or debridement of complicated lacerations or avulsions.
The healthcare provider's documentation is the key to determining which type of repair code to use. It can be useful to spend some time with the clinician to clarify what type of information is needed in the medical record in order to assign the correct code.
The class also covered a few other areas including biopsies, shaves and excisions, medical necessity, audits, and ICD-10 coding for ulcers. Just as a quick highlight, in ICD-10 pressure ulcers use combination codes to identify both the stage and the location. Guideline Chapter 12.a in ICD-10-CM contains the rules for coding diseases of the skin and subcutaneous tissues, (codes L00-L09)—looking forward to ICD-10!  Check out this guideline at: https://www.cms.gov/Medicare/Coding/ICD10/Downloads/icd10cm-guidelines-2015.pdf
.
Happy coding!