How to Become a Successful Computer Technician
Posted on 07.13.2015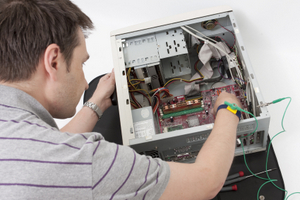 As stated in 2013 census data, 84% of Americans own at least one computer, and that number is only growing! If you're good with computers and looking for a quick way to a great job, computer technician could be the in-demand career for you. In fact, according to the Bureau of Labor Statistics, computer technician careers are projected to grow 17% through 2022—6% faster than average. Convinced? Here are your 3 steps to becoming a successful computer technician.
Step 1 – Training
You will have to complete a formal training regardless of the number of times you have rebuilt your desktop or repaired your mom's purple Apple, but don't let this discourage you! Computer technicians have lots of training options: you can choose an associate degree, post-secondary classes, or an online certification program depending on your needs, finances, and schedule. If you need to work while taking classes, invest in a flexible and affordable online training, such as CareerStep's computer technician program. You can complete the course at your own pace in just a few months and will have everything you need to snag a great job after graduation.
Whatever training program you choose, be sure the coursework covers computer hardware, operating systems, software, drivers, and troubleshooting as well as building, repairing, upgrading, and maintaining computer equipment. It's also important to understand that the most worthwhile programs are those that prepare you for specific certifications.
Step 2 – Certification
After training, take the certification exams. Although it may not be mandatory for all jobs, certifications are undeniable proof that you know your stuff and can open endless possibilities. One of the most valuable certifications for computer techs is the CompTIA A+ certification, which focuses on the Windows operating system.
Computer techs who are Microsoft Certified System Engineers (MCSE) are also sought after. This certification focuses on MS 2000 & 2003 Windows platforms and Microsoft server systems.
You can be prepared for these certification exams by taking a certificate program or training boot camp, or, better yet, ensuring your original computer tech training program prepares its graduates for one or more certification exams.
Step 3 – Experience
Success in the computer world is about real experience, so don't be afraid to get your hands dusty. Here are a few ideas to expand your knowledge and experience:
• Build a computer.
• Provide maintenance and repairs as you can for family, friends, and neighbors. If someone has a computer problem, offer to troubleshoot—they'll love you for it.
• Look for paid or unpaid internships with local computer repair companies.
• Keep learning through online forums where you can discuss how to fix computer problems and learn from others in the field.
With these 3 steps, a little dedication, and a true love of computers, you can be a successful computer technician in just a few months. Ready to move forward with your career as a computer tech? Click here to find more computer technician career information.