Tips to Create an Effective Home Office/Guest Room Combo
Posted on 05.23.2014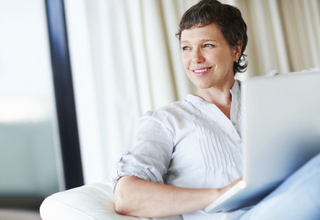 A few months ago, I did a two-part blog on creating an effective home office space geared for medical transcription.  I received an overwhelming response requesting that I do a post on creating a home office/guest room combo, and I am happy to oblige!  Some of us are lucky enough to have a dedicated office room, but our abode is small and it needs to double as a guest space when our favorite in-laws come to town or Grandma needs a place to visit on her way to Yuma.  Here are some simple tips to set up a functional and attractive home office/guest room combo.
Pull everything out of the room and decide on the 2 main furniture pieces: The Desk and The Bed.
If this room is going to only have very occasional visitors and its main function will be the office, you can put a bit more thought into the office furniture, but you want to make sure that your guests are comfortable when they come to visit. Creating a multi-use room is about easy transformation from one purpose to another with minimal effort.  A cot folded up in the closet won't do for most people. Instead, consider something more like one of these 3 options:
1. The Chaise:  A comfortable chaise can be used as additional seating in the office, but it can also double as a place for a guest to sleep while visiting. Something like this DHP Emily Chaise Lounger would work great!
2. The Futon: Futons are one of my favorite pieces when putting together a den or guest room. This is a great option to provide seating that stays out of the way of your office equipment but can easily convert to a comfortable bed. You can find futons just about anywhere, but Futon Planet has some great options to look at.
3. The Murphy Bed: I know. I know. Murphy beds are so 1975.  I'm telling you, though, they are seriously back in style, especially for multi-use rooms or small rooms that don't have a lot of space. The Murphy bed, if you've never heard of it, is a convertible bed that folds up against or into the wall when not in use and folds back down when it needs to be used. This is a great option if you need a more full-sized bed for your guests, but you don't want to sacrifice your floor space in the room all the time. Most Murphy beds come with built-in storage on one or both sides of the bed that is great for keeping your office resources in and then when guests visit, their knickknacks and luggage. This is the most expensive option of the beds (depending on what type you get), but it provides the best way to keep the office tidy when you are using it for work and comfortable for your guests when they drop in.
Check out my previous post to learn more about selecting a desk for your office space!
Provide storage space.
When planning a multi-use room, storage space is a very important consideration. For your guests, a place to put their luggage is essential. If the room has a closet, perfect! Keep some empty hangers in there, make sure there are enough shelves or cubbies for your guest's clothes, and make sure it doesn't smell like mothballs and corn chips.
A suitcase bench is another simple solution for a guest room if you don't have a closet in the room.  When in use, it gets the luggage off the floor. When not in use, it can be folded up and hidden out of sight. Shelves and cubes can also take the place of a closet.  They work both for office storage and your guest's stuff.
Minimize unnecessary extras.
While it is tempting to try to put as much stuff in a guest room as possible, less is more. You really only need the necessities to make a functional office and guest room combo. Overcrowding multi-use spaces is one of the most common mistakes made.  A crowded office does not invite someone to work comfortably, nor does it allow a guest a restful night's sleep.  Pick and choose carefully! This is why I suggested removing everything at first and then only bringing back in the essentials to make the space functional and organized.
Once you've selected your pieces, avoid the urge to make the multi-use room a dumping ground for things you don't want elsewhere in your house.  Keeping your office space clutter free will help you to be more productive at your work-from-home transcription job, while allowing your guests to feel more comfortable in your house.
If you are looking for more tips and tricks, check out this site for ideas: https://www.houzz.com/photos/home-office/guest-room-
As always, be creative and happy designing!
– Alesa Little
CS Student Support Team