Up the Turret (or The 451st Hat)
Posted on 04.01.2013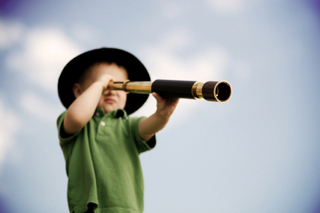 Professionalism and Adaptability in the Industry's Future
In Dr. Seuss's classic story The 500 Hats of Bartholomew Cubbins, an ordinary village boy is bullied by the king because he cannot doff his hat in homage. Every time Bartholomew takes off his ordinary hat with one plain feather, another appears on his head. The situation becomes more and more dire as Bartholomew is abducted to the palace and subjected to a royal hat maker, wise men, archers, magicians, and an executioner (who cannot execute anyone with a hat on—it's against the rules). Finally, he is marched to the highest turret to be pushed off for insubordination. On this long march up a winding stone staircase, Bartholomew swiftly and methodically takes off hat after hat after hat, dropping them on the steps as he climbs.
Bartholomew is so intent on his task he doesn't even notice that at the 451st hat, they begin to change.
"Hat 451 had, not one, but two feathers! Hat 452 had three…and 453 also had three and a little red jewel! Each new hat was fancier than the hat just before."
By the time Bartholomew reaches the top of the tallest turret he is sporting the most beautiful hat ever seen; indeed, "Beside such a hat even the King's Crown seemed like nothing." As soon as the king sees it, he offers to buy the 500th hat for 500 pieces of gold. The king places the magnificent hat over his crown, and Bartholomew returns home safe and sound with a big bag of gold slung over his shoulder.
Historically, the job of an MT has been done by an army of ordinary people working in their homes throughout the country. For a long time, it was typewriters, carbon paper, and cassette tapes; then it was mini cassettes, printers, and keyboards; next, came sound files, computers, and internet file transfer protocols; now, it's voice recognition software, HIPAA guidelines, and the electronic health record. Times and tools change; and, until recently, this has been the extent of it. At this point, however, more fundamental changes are afoot, and we must be adaptable enough to keep up. If we insist on doing the same thing we've always done, we'll only get into problem after problem—much like Bartholomew and his first 450 hats.
It's feasible to suggest the industry may be evolving from a model involving a large population of people doing one thing—medical transcription—to a model involving fewer but more highly trained people with a wide range of skills and knowledge. Of course, it's difficult to say exactly what the future will bring, but it's safe to say that those with the most training, skills, and knowledge will not only be best suited to navigate changes but will also be most likely to land on their feet. The need for accurate health records will always exist; the best thing to do to ensure a place in the future of the healthcare documentation industry is to position ourselves favorably for what is to come.
It doesn't sound very nice to say, but there is a lot of substandard MT work in medical files today—take a look at your own medical files if you need proof. The emerging model will likely demand a higher and more consistent standard of accuracy, technical expertise, and medical industry understanding. The healthcare documentation specialist of the future must expect growth, change, and competition in the workplace and prepare for it. He or she must embody professionalism—dependability, competency, loyalty, etiquette, and the ability to adapt and grow. Those with the desire, abilities, and drive to be the best are most likely to be truly successful. A pleasant upside is that these people are also more likely to be well compensated for their time, knowledge, and training.
No matter where you are now, you can be one of those people. The medical transcription training you're gaining is an excellent beginning. You're getting a solid foundation in medical terminology and a wide and varied understanding of surgery, pathology, pharmacology, anatomy, and medical specialties from orthopedics to psychiatry. You're also gaining experience handling medical records, privacy issues, doctors' personalities, as well as constant exposure to the realities of the human aspect of disease, injury, and medicine. In the MTE program, you also benefit from working with computer-generated voice-recognition files and medical editing software. After graduation, you will have a marketable skill to put to immediate use—but don't stop there!
The next step up the turret steps is before you. Continue on by exploring another area, like the medical coding and billing aspect of healthcare documentation or learning the tasks of a medical front and/or back office or taking a CNA class. Really, anything from a CPR certification to a stint as a home health provider to a degree in healthcare administration will expand your knowledge and experience and improve your marketability.
Of course, this isn't what everyone wants to consider. What I'm suggesting is an ambitious undertaking that may not apply to everyone's circumstances or needs; however, if you are looking to make a career in healthcare documentation, please consider that we may be at the 450th hat right now. It's time to look ahead and make a five-year plan that includes not only work, but education and experience in a variety of healthcare documentation specialties. Instead of wistfully looking back at the piles and piles of plain one-feather hats and wishing for yesterday when such a hat was all you needed, start climbing those turret steps so you'll emerge qualified, strong, adaptable, and well positioned for new opportunities.
Jill McNitt
CareerStep Student Support Team