The MyCAA Application: Your Guide
Posted on 10.10.2022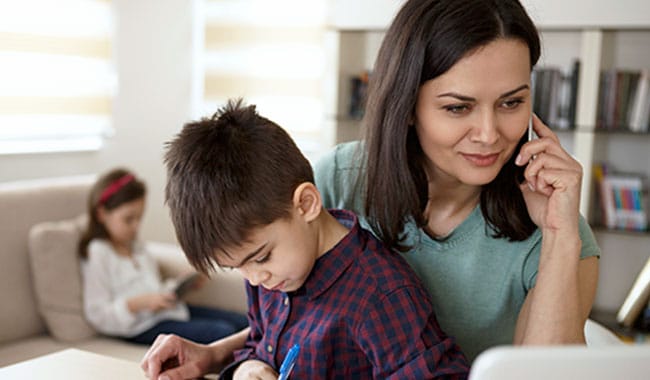 It's said that every journey starts with a single step—well, the journey to your new career can begin with a single click! Military spouses looking to pursue a license, certification, or associate degree may be eligible for up to $4,000 in federal financial assistance through the MyCAA Grant—all you need to do is apply! As our name suggests, at CareerStep we believe in taking steps toward a brighter future, and we've put together a few pointers to get you started.
Start with the First 4 Steps
To help you navigate your way through the MyCAA application process, here are your first 4 steps. Remember, if you get stuck or have questions, you have dedicated support available from MyCAA's counselors (as well as from us at CareerStep!
1) Create your own My Career Advancement Account (MyCAA)
This official Department of Defense site is the hub for MyCAA participants, and it's where you'll find a wealth of information about the program, including a list of approved programs and schools. You can find the hub here:
2) Create a Career Goal.
We highly recommend you contact the school you're looking to attend as part of this step. Why? You'll have a better understanding of the available programs and how they align with your desired career direction. To get guidance from a CareerStep Advisor, call 1-855-261-7366 for step-by-step help. When you're ready, click on "Create Goal" in the "What's Next?" box on the right of your MyCAA account. Then click "OK" in the pop-up window to create your goal.
3) Submit an Education and Training Plan.
Get this submitted for approval at least 2 months prior to your desired class start. The approval process can take up to 15 business days, and after that, there will be additional time needed to submit your financial assistance request. This is another area where it is very important to work with the school you're planning to attend. They can often provide you with the actual Education and Training Plan document and help you make sure it includes everything you'll need to be approved.
4) Call for your Individual Career Plan (ICP) Consultation.
A required step, your ICP allows your MyCAA application to progress. This consultation gives you the opportunity to confirm with a MyCAA advisor that the program and career goals you have set are the path you want to take. Please call MyCAA directly at 1-800-342-9647 to request an appointment. If you're pursuing a CareerStep program, contact your CareerStep Advisor at 1-855-261-7366 to let them know when your appointment will take place.
How long does it take to get MyCAA Grant approved?
Most applications are approved within 30 days. The application is submitted on the MyCAA website, Then you must set up a career goal,  Next you submit a education and training plan, Finally the last step is to call your ICP. Read a more detailed version of these steps on our MyCAA starting guide.
Do I qualify for MyCAA
To be eligible to use the MyCAA scholarship program, you must be a spouse of an eligible member of the military, and you must have successfully completed high school. You must be a current spouse of an active duty Army, Navy, Air Force, Marine, National Guard, or Reserve member on active deployment in pay grades E1–E5 or W1–W2. A National Guard or AGR member must be on federal Title 10 active duty orders as reported in DEERS for their spouse to be eligible for the funding. Read more on this here.
How Many Times can you use MyCAA?
MyCAA will cover an annual fiscal year cap of $2,000 of your tuition each year for two years, for a total of $4,000.   Annual cap waivers may be available if costs exceed $2,000.  If you complete your certification or degree with the help of MyCAA and the full $4,000 grant but want to change careers again, you will not be eligible to receive coverage from MyCAA a second time. However, if you did not use up all your funds the first time, talk to your career coach to see if you can use the remaining funds with a new Education and Training Plan.
Stay Ahead of Common Pitfalls
Over the course of time, the MyCAA administrators have seen patterns to avoid during the application process. Noteworthy recommendations for new applicants include:
– Stay in contact. If you have initiated contact regarding your MyCAA Account, check your account on a weekly basis for replies or system messages. This also keeps you aware of account information updates, such as required information you may need to submit.
– Print or save a copy of all your MyCAA documents. You'll want to deliver or send a copy of the documents to your school.
– Reach out to your school's MyCAA representative. They can assist you, and are usually located in the registrar's office, financial aid office, or veteran affair's office.
Here for You Every Step of the Way
As a MyCAA-approved institution, CareerStep has an entire department dedicated to helping students using a MyCAA grant. As part of that department, Academic Advisor Laura Felsing has worked with hundreds of military spouses looking to use MyCAA to cover the costs of their education.
"It can be confusing for new students, but we're here every step of the way," said Laura. "We have a lot of experience walking students through the process. We help them get that funding approved as quickly and easily as possible."
Laura's favorite part of her job? "It's great knowing there's a grant out there that I can help students get approved for so they can take courses. I like knowing I'm helping them get further in their careers."
CareerStep's online programs include everything you need to train for a rewarding new career with MyCAA funding. Read about Victoria, one of our learners and her success story.
You can also connect with more people in a similar position as your self on our Facebook group, see what it's about here.
Visit www.careerstep.com/military or call a CareerStep Academic Advisor directly at 1-855-261-7366 for friendly, helpful assistance.