Checklist for Finding a MyCAA-Approved Certificate Program
Posted on 09.30.2022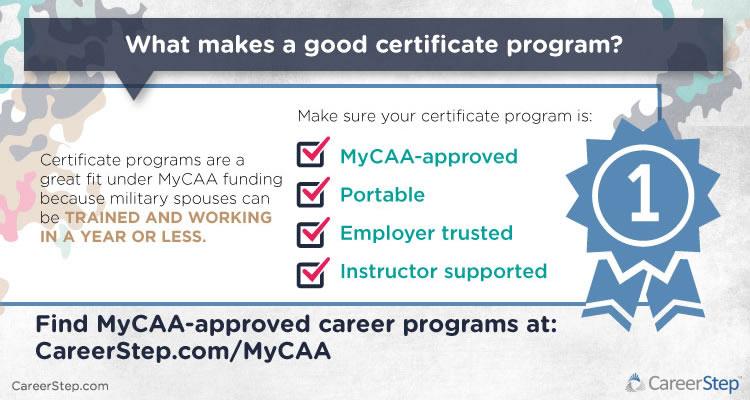 So, you're a military spouse approved for MyCAA financial assistance? Congrats! As you evaluate your MyCAA options, keep certificate programs in mind.
Certificate programs are one of the training types eligible for MyCAA funding. Benefits of this option include a quicker timeline versus earning an associate degree, getting you trained and working faster. Certificates are also a nice enhancement for those who already have a degree but want to polish their skills and receive more career training so that they can be more attractive job candidates. As you weigh out your options, use the 4 must-have qualities listed below to make sure you're making the most of your $4,000 MyCAA scholarship and signing up for the best certificate program option.
4 Essentials of Choosing a Certificate Program
1) Make Sure Your Certificate Program is MyCAA-approved
This essential for career development programs may seem like a no-brainer, but not every school or educational institution has been approved by the MyCAA program. According to the FAQs on the Military OneSource site, there are approximately 3,000 schools and campuses participating. All schools and institutions participating in the MyCAA program must be accredited by a regulatory body recognized by the U.S. Department of Education or the Department of Defense.
The DoD recommends choosing a school that is already participating as the fastest way to use MyCAA financial assistance. If a school in your sights is not on the list, you can encourage school officials to visit the School Resources page on the MyCAA Spouse Portal to learn about school eligibility and accreditation requirements. However, this process can take up to 60 days to complete. Double check if your desired school is participating on the MyCAA Spouse Portal by using the "search -School" or "search Program" button in the menu of Military One Source website to view a list of participating schools.
We at CareerStep are pleased to be an approved MyCAA institution, and every one of our variety of online certificate programs is MyCAA approved.
Whether you're looking at some short term career training programs or wanting a more in-depth career development program, your MyCAA scholarship will be accepted and applied toward your educational costs.
2) Portable
With a relocating lifestyle, military spouses are encouraged to find certificate career programs they can take with them. Rather than face the hassle of changing schools or campus locations during a program, choosing an online course gives you access to training that is available anytime, anywhere. This makes it easy to bring school with you if you get transferred and study on the schedule that fits your family's unique situation.
Another great benefit of online courses is that you can obtain your certification much faster. Many CareerStep courses are designed with the capability to be 6-month career training programs, which means you'll have the advantage of being able to finish your training faster than a more traditional degree program—preparing you to start working sooner.
"I could access the program any time I wanted to," said Dana, a military spouse, mother, and CareerStep Medical Transcription graduate in an interview. "That was key for me. I could not set myself in a schedule of being in a classroom or going online at a specific time. I needed that flexibility."
3) Your Pre-Approved MyCAA Certificate Program Should Be Trusted by Employers
In today's business world, employers are seeking to quickly fill the skills gap for in-demand careers. If that gap can be filled with a qualified candidate using certification from a 6-month training program, even better. Certificate programs help you develop essential skills, minimize on-the-job training you'll need, and help you stand out in the job market.
At CareerStep, our students train with confidence because our graduates have a proven track record of being hired by industry leaders. For example, our CareerStep Pharmacy Technician students are regularly hired as externs and employees at Walgreens and CVS Pharmacy locations nationwide and leading healthcare employers use our Medical Coding and Billing curriculum to train their employees.
4) Final Tip: Make Sure Your Program is Instructor supported
If you're taking a short-term career training program in-person, you would expect your instructor to see your raised hand and answer your question, right? The same should be true for a remote instructor. A quality online certificate program gives you the freedom to learn at your own pace, while also providing access to an expert when you have a question or need a little encouragement. You can tell a lot about instructor support before a course begins—it's important to notice how a school or learning institution responds to your needs from your first interaction with them.
"I had emailed and corresponded with CareerStep prior to enrolling in the course. I always got very truthful answers, very knowledgeable answers," Says Careerstep Graduate Dana "I realized that CareerStep cared about military spouses."
At CareerStep, our dedicated instructors are available to answer your questions. We encourage our students to contact their instructors by their preferred communication method—phone, email, and/or chat—every step of the way.
Bonus Tip) What Will MyCAA Pay For?
Approved program tuitions and exam fees.
The pursuit a license
Pursuit a Associates Degree
Pursuit a certification
Cost of national Test that earn military spouse credits
Get additional details about what MyCAA does, does not cover and how to best use your MyCaa Benefits
Bonus Tip) Who is eligible for MyCAA?
Spouses of members of the National guard and reserve members under qualifying title 10 pay grades. This includes:
Pay Grades E-1 through E5 
Pay Grades W-1 through W2 
Pay Grades O-1 through O-2 
Spouses who have completed high school or obtained a GED 
Get additional details about MyCaa Benefits Eligibility.
Bonus Tip) What certifications can I get through MyCAA?
We've Partnered with MyCAA to provide programs to that set you on a path to a long term and portable career. Popular programs covered by MyCAA include but are not limited to:
Medical Administrative assistant
CMAA and CEHRS Certification prep
$37,450 Average Salary*
Always in demand since this position plays an important role in hospital and clinic front offices
CMAA, CEHRS, and CBCS Certification prep
$50,872 Average Salary*
Bureau of labor statistics estimates 3.4% employment growth over the next 10 years
Nelda and RDA Certification Prep
$37,630 Average Salary*
Bureau of labor statistics estimates 19% employment growth over the next 10 years
These are just to list a few, we offer many more programs covered by MyCAA.  View our complete list of MyCAA covered programs and get begin your career path.
To learn more about MyCAA and how it can help you as a military spouse, check out our CareerStep MyCAA Guide to learn what the program is, why it exists, who is eligible for funding, what the program will pay for, and what the application process looks like. You can also link with others who are experiencing similar cirumstanes as you on our new Facebook group.
If you're ready to take the plunge and make the most of your MyCAA scholarship, be sure to explore the online, MyCAA-approved certification programs available through CareerStep. We've trained over 13,000 military spouses, and we can help you prepare for a successful career too! Visit CareerStep.com or call an Academic Advisor at 855-261-7366 to get started today!