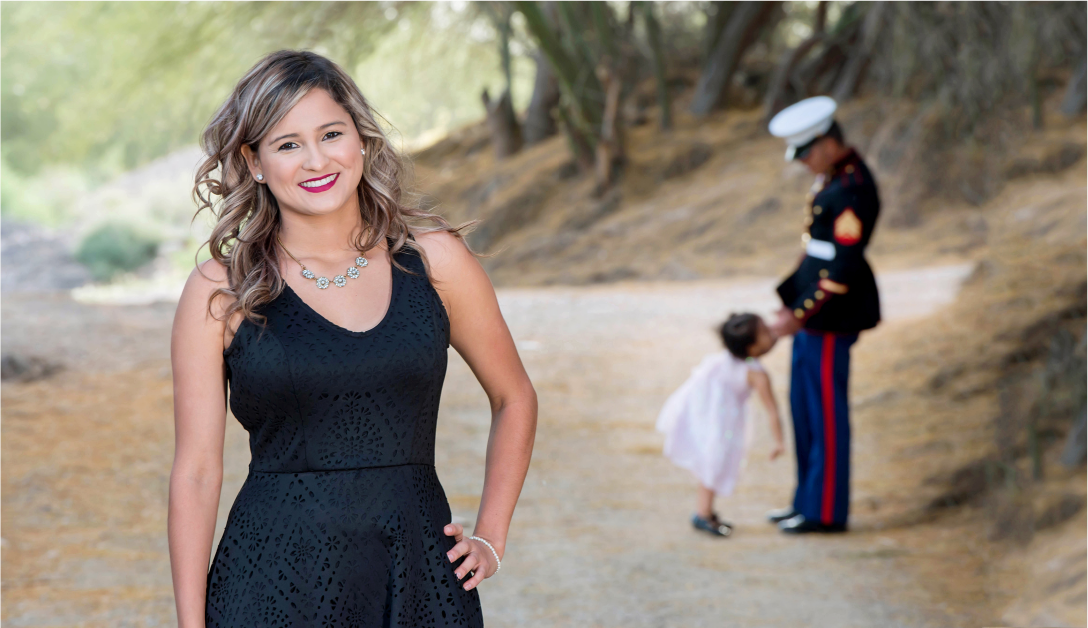 Meet Eva Cardenas
Medical Administrative Assistant Graduate
"I Want to be Someone in this World": Motivated Mom Turns Career Step Training into Successful Career
Sometimes life doesn't turn out quite how you expect, yet it still falls into place. That's what happened to Eva Cardenas, a new mom and military wife. When Eva's first baby was just one month old, Eva had more time on her hands than she was used to, along with a burning desire to join the workforce she couldn't brush off. As she considered options that would fit her family's needs, she found Career Step and set in motion a whirlwind of positive events that led her to a career she's proud of. This is the story of how Career Step helped Eva find a new career, accomplish her goals, and keep moving forward professionally as she adjusted to motherhood.
New, Restless Mom Seeking Career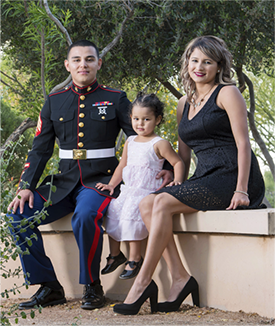 First, let's back up a bit. After Eva graduated from high school, she started college classes. She had her sights set on a degree, but when she got married and had her first baby, completing her education become much more complicated. "It wasn't easy for me to be a housewife, a mother to a brand-new baby," remembers Eva. "I was alone in California where I didn't have family, so it wasn't like I could just have someone babysit my daughter while I went to school for a few hours."
Prior to having a baby, Eva enjoyed a fast-paced lifestyle, and although she loved being a mom to her new daughter, she wanted to do more. "I want to be someone in this world, do something, go out there and talk to people, not just stay home cooking and cleaning and changing diapers," says Eva. "I want to be an example for my daughter." Eager to resume her education, Eva started researching flexible education options and quickly chanced upon Career Step.
"At first, I was skeptical about signing up because I had never taken an online course and had a one-month-old baby," says Eva. She took a chance anyway and gave Career Step a call. Eva's skepticism quickly vanished. "Career Step honestly made it really easy for me," says Eva. The academic advisor she spoke to walked her through every step of the process of signing up. He answered all her questions, helped her finalize her application, and even helped Eva apply for the MyCAA grant, a government grant for spouses of active-duty military members. The grant paid $4,000 for Eva's coursework. Getting started with Career Step's medical administrative assistant training was an incredibly easy process for Eva—so easy, in fact, that she did it without her husband knowing.
"Everything sounded so great that I just jumped in and signed up one day before my husband even got home from work," she remembers. For Eva, there was no going back. "Whenever I put something in my head, there's nothing that can stop me," she says. Although her husband was taken aback at first, Eva says he loves what she has accomplished now.
Earning Her Medical Administrative Assistant Certificate and Finding a Job—All in Baby's First Year
Eva is a planner and a go-getter. When she first started the Medical Administrative Assistant course, mid-2014, she set a six-month deadline for herself. She found completing the course weaved seamlessly into her schedule as a new mom. "I really liked that the courses were at my own pace, anytime," said Eva. "It's not like I had a certain amount of hours per day. It made it really easy and convenient." Whenever she got a spare moment, Eva devoted her time to completing the course. "Any time I got a chance, I opened my laptop or books and read. I was always, always trying to get ahead," says Eva.
Eva remembers completing the course the day before Halloween. When she told her husband she completed the course, with honors, he almost couldn't believe it. He wasn't the only one. "Once I got that certificate in the mail, I just couldn't believe it. All that hard work paid off, and it was just such a great feeling," said Eva, who framed her Career Step certificate as a reminder she can do anything.
What next? As soon as Eva graduated, she started getting emails from Career Step's support team that helped her figure out what options were available to her. She learned about Career Step's career placement options and got information about improving her chances for being hired. One resource that Eva relied on was Career Step's resume revision service. Eva worked on her resume for an entire week, perfecting it, then sent it to Career Step. They helped her make it shine. "Once the resume was perfect, I started applying," said Eva. "Two hours later, the company I work for now called me and asked if I could do an interview the next day."
Eva got the job the day after she applied. Three months after she graduated from Career Step's program, in early 2015, she started working as a medical receptionist and administrator at Health Link Medical Center in California.
Doing the Right Thing—For Her Family and Her Career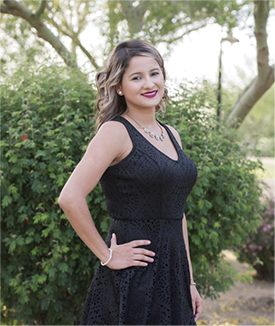 When Eva first applied to her current position at Health Link, it was only supposed to be temporary. She was meant to cover another employee's maternity leave. That's it. But when that other employee came back, the company realized they liked Eva's work ethic and abilities so much they didn't want to let her go. The other employee received a new position, and Eva kept the job of medical receptionist/administrator. Eva didn't just prove herself irreplaceable—she earned the trust and respect of her manager and company and was rewarded for it. "Eva is very detail-oriented, efficient, professional, and communicative," says Alejandra Romanillo, Eva's manager. "As a new employee, Eva was eager to learn and took a lot of initiative in wanting to learn more." Just a year after starting the position, in January 2016, Eva was promoted to medical coordinator, an important client-facing role in the company. She's proud that she's moved up in the company so quickly.
Eva's job has not come without its challenges. "When I first started working," Eva says, "it was a challenge deciding to leave the baby at a daycare." She told her husband she didn't want to stay at home her whole life—she couldn't—and together, Eva and her husband decided they were making the right choice for their family. With her husband's support, Eva started worked full-time outside of the home.
However, another challenge arose when Eva's husband was deployed overseas for nine months not long after she started working. Eva was faced with a choice—should she try caring for her daughter with no support and continue to work, or move back home to be closer to family but lose her job? Eva didn't want to leave her job, but she knew she had no choice—she would need the support from her family during her husband's deployment. Luckily, in the end she didn't have to choose between her career and responsibilities as a mother. Eva spoke with her manager about her situation, and Alejandra asked her a question that changed everything: "Why don't you work from home?"
At first, Eva and her husband were skeptical. Eva's husband knew he wouldn't be home to help parent their daughter, and he wanted Eva to focus on raising their baby. But Eva felt this was an opportunity she couldn't turn down—for herself and her family. She accepted the offer. Eva was the first in the company to be granted the opportunity to work remotely. Her manager explains why: "We wanted to accommodate her. We love having her in the department of the call center," said Alejandra. "She did so great and still does."
Eva currently works remotely for Health Link from her home in Arizona. What makes Eva a successful employee? "She goes for what she wants," said Alejandra. "She knows what her goals are and goes for them."
For a motivated mama like Eva, the future looks great now that she's found a happy balance between professional aspirations and family. "I love what I do, and I hope to do it for a very long time," says Eva.